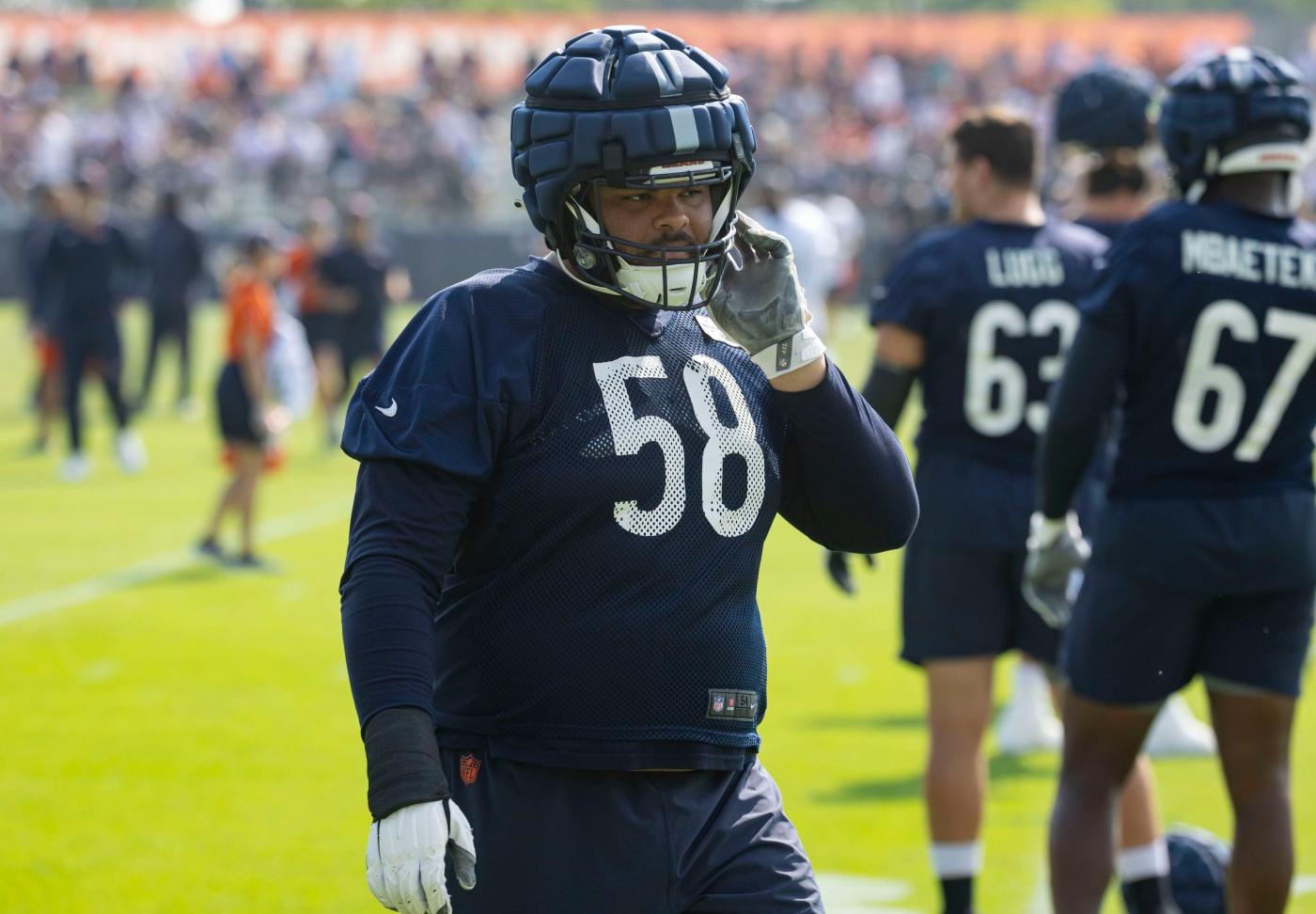 Darnell Wright's 1st 2 months have been all about growth. Will the Chicago Bears rookie be able to 'gut through' a shoulder issue again?
Every week of Darnell Wright's rookie season, there has been social media examination of how the Chicago Bears first-round pick is faring — clips of him plowing a path in the run game with his athleticism, holding his own to allow quarterback Justin Fields time and, yes, getting beat by veteran pass rushers.
But the film of Wright's performance against the Las Vegas Raiders and two-time Pro Bowl defensive end Maxx Crosby on Sunday was unusual. For several plays in the Bears' 30-12 victory, it looked like Wright was keeping Crosby away from backup quarterback Tyson Bagent with the use of only his right arm.
Wright dealt with a left shoulder injury all last week in practice, and coach Matt Eberflus said he pushed through pain to help a Bears offensive line that paved the way for 173 rushing yards and allowed just one sack of Bagent. Eberflus commended Wright "for gutting it through," even if it didn't look pretty at times.
"To do that against arguably one of the best edge rushers in the league, he's a dog," offensive tackle Larry Borom said. "Everyone knew he was dealing with something. But for him to gut through it for the team, that speaks everything."
Wright's status this week is worth monitoring closely as the Bears prepare to face the Los Angeles Chargers on Sunday night at SoFi Stadium. Khalil Mack and Joey Bosa will be trying to get after Bagent, who is expected to make his second start in place of Fields.
Wright didn't participate in practice Wednesday at Halas Hall and was limited Thursday as he recovers from the shoulder injury and a new issue with his toe. The Bears have designated left tackle Braxton Jones to return from injured reserve after he was sidelined five weeks with a neck injury.
They also have Borom, who filled in for Jones and could take over for Wright at right tackle if needed. Ja'Tyre Carter is another option at tackle. Offensive coordinator Luke Getsy said they've "explored a bunch of different options" with the positions in flux.
Eberflus said the Bears will measure Wright's "functionality" and strength in practice to see if they're up to par for Sunday. If Wright is healthy enough to play, Mack would be the latest in a series of good pass rushers the rookie has faced. If he isn't, he'll miss the continuation of growth opportunities from his first two months in the NFL.
Those challenges have taught the 6-foot-6, 333-pound Wright plenty about what he has to learn — and who he wants to be as a player.
"The main thing I've learned is the room for error is a lot smaller," Wright told the Tribune earlier this month. "You can still get away with some things, but it's a lot, lot less than previously. And there's a long way for me to go to be what I see myself as being.
"It would have been weird if I came in and was just as good as anyone. I don't think I would want it that way. I mean, it would be cool, but it would be kind of weird."
A 'vast' difference
Of all the players Wright has tried to stop this season, from Shaq Barrett to Danielle Hunter to Crosby, the one he said gave him the most eye-opening welcome to the NFL was Chris Jones in the 41-10 loss to the Kansas City Chiefs.
On third-and-6 in the first quarter with the Bears at the Chiefs 36-yard line, Wright found himself against Jones one on one. Jones slid by Wright on the outside and took down Fields for an 8-yard loss, forcing the Bears to punt.
"I realized the difference in how good some players can be. Like the difference between me and him is so vast," Wright said. "After that game, I realized, OK, when I can get to the day when I can block someone like him easily and not need any help or not need any type of special treatment … that's when I was like, OK, now I have a clear goal — to be that good."
The Bears have seen a lot of promise from Wright, the No. 10 draft pick out of Tennessee.
Offensive line coach Chris Morgan said Wright has been "everything that we thought he would be" when they were scouting him: smart, big, strong and driven.
Wright's natural gifts start with a rare combination of movement skills and size, according to Borom and guard Teven Jenkins, who called him "one of the most athletic tackles I've been around."
"It hurts me to say because I want to be that athletic tackle too," Jenkins said.
The most impressive thing he does?
"It's got to be the way he pulls," Jenkins said." He comes around the edge and still has that same speed, doesn't slow down and is still able to actually block his defender. You can see his recovery ability on pass (protection). … I've never seen someone his size get the whole spin — come back around, spin and pick up his block again. It's crazy."
But Wright also has had a lot of learning moments like the one against Jones as he tries to develop consistency.
Wright has given up five sacks this year, according to Pro Football Focus, and he also has five penalties, including three false starts.
After the 19-13 loss to the Minnesota Vikings in Week 6 — a rough day for the Bears offensive line — Getsy noted two of Wright's mistakes.
Getsy said Wright didn't finish a block on Hunter during a Fields scramble that resulted in Fields' thumb injury. And earlier in the game, a Wright mistake contributed to a Fields interception. The rookie didn't execute the call from the center and picked up safety Josh Metellus on the outside, leaving running back D'Onta Foreman inside to block Hunter, who pressured Fields.
Jenkins said such mistakes are part of the process for a rookie offensive lineman.
"Just don't be afraid to make mistakes," Jenkins said. "My first game, when I came in on 'Sunday Night Football' (in 2021 against the Green Bay Packers), I gave up two strip-sacks to Preston Smith. Those things will happen. I had to go learn from them and grow from them. And I did. Hopefully he gets those lessons."
For Wright, the lessons are a continuation of growth that really took off a couple of years ago in college.
Figuring it out
In 2020-21, amid a snowball of distressing circumstances at Tennessee, Wright wasn't sure if football was the path for him.
The COVID-19 pandemic altered his college experience at the end of his freshman year in the spring of 2020. The Volunteers returned to play 10 games in the fall, but they went 3-7, became the subject of an NCAA investigation for recruiting violations and fired the coaching staff by January 2021.
"Just my first experience, thinking I'm going to be in college and I'm going to have this good career and then we start out with all of that, I'm like (a teenager) at the time," Wright said. "It was at that point I was thinking maybe football is probably not the thing. Just because things weren't going that well. I wasn't playing great and also with what was going on with the team."
But as Wright settled in with a new coaching staff, led by head coach Josh Heupel and offensive line coach Glen Elarbee, he began to regain confidence in himself and his path.
Fewer distractions also allowed him to grow in his knowledge of the game. Heupel said in the spring that Wright went from being a "very young football player" in his fundamentals and football IQ to a dominant player who made first-team All-SEC as a senior.
"I feel like I gained a little bit of my confidence back, or at least a little bit of, 'Yeah, this is my thing,'" Wright said. "Just getting that fresh start, a little reset my junior year. And then somewhere around my senior year was when Coach Heupel sat me down and was telling me, 'Yeah, you could probably play at a high level. You just have to stay consistent and get better.'"
Now, with another reset in his career, Wright is looking for that improvement at the next level.
One of his favorite plays this season wasn't one of those splashy viral run-blocking clips, such as when he bowled over Washington Commanders cornerback Emmanuel Forbes Jr.: "He's a smaller guy, so that's expected to happen."
It was during the Denver Broncos game when Wright got the offensive line into the right call and "didn't have to rely on them telling me what to do."
"I was fending for myself and helping out the team," he said, "instead of just being somebody that has to get the call from someone."
When Getsy was asked about Wright's growth, he pointed to Wright "figuring out his game, figuring out the system, figuring out how to play next to somebody."
Morgan said the questions Wright asks and feedback he provides are different than they were three months ago, when he was just beginning training camp. Morgan cited improvement in what Wright looks at presnap and his understanding of how he can better break down an opponent and how an opponent is breaking him down.
Jenkins said he has seen a more vocal Wright as he settles into his new home.
"Sometimes he was hesitant to ask the question, and now you can see him asking the question and he's getting more involved," Jenkins said. "He's not afraid to speak up in meetings. He's getting out of his shell for sure."
'This guy likes football'
Wright has seen the talk on social media. He knows the comparisons are bound to be made, given the circumstances.
Jalen Carter, at one point projected to be the first defensive player selected in this year's draft, dropped to No. 9 amid character concerns stemming in part from his pleading no contest to misdemeanor charges of reckless driving and racing in connection with a fatal crash in January.
The Bears owned the No. 9 pick, but they opted not to draft Carter. General manager Ryan Poles traded back one spot in exchange for a 2024 fourth-round pick from the Philadelphia Eagles, a more veteran team perhaps better equipped to help a young player such as Carter grow. The Bears took Wright at No. 10.
Carter has had early success with the Eagles, totaling 3 1/2 sacks, two forced fumbles, five quarterback hits and 13 tackles. If that success grows, some Bears observers are bound to ask "What if?" — even if the Bears had good reason to pick Wright over Carter.
But that won't bother Wright, who trained with Carter before the draft.
"He's a great player," Wright said. "You couldn't have gone wrong with picking him. … I'll never talk bad about somebody."
Wright is more focused on his own path, overseen by Morgan.
When the Bears drafted Wright, they told of the predraft workout Morgan conducted with him. It was a grueling physical and mental test that helped convince Poles that Wright would be a good addition to an offensive line in need.
Wright said his relationship with Morgan worked off the bat because they were honest with each other.
"You might get in the draft process and a coach may say, 'I do this and I do that.' But they may be exaggerating this or making it sound good," Wright said. "Me and him were just brutally honest, like, 'This is what I am.'
"If we're honest with each other and we put our best foot forward, it's going to work. We both just want to be great. Everything is in front of us right now — me as a player, him as a coach coaching me."
Morgan appreciates Wright's uncomplicated drive to get better.
"There's not a bunch of other stuff with this guy," he said. "This guy likes football."
As Wright comes to understand what it takes to play at this level, he has kept his goals simple: improve every year and stay healthy.
The former requires the latter, even if he was able to gut through the Raiders game. So his health status this week and beyond will be big for the Bears and the rookie.
"As long as I'm getting better every year and staying healthy," Wright said, "I know that will be a good outcome."
()