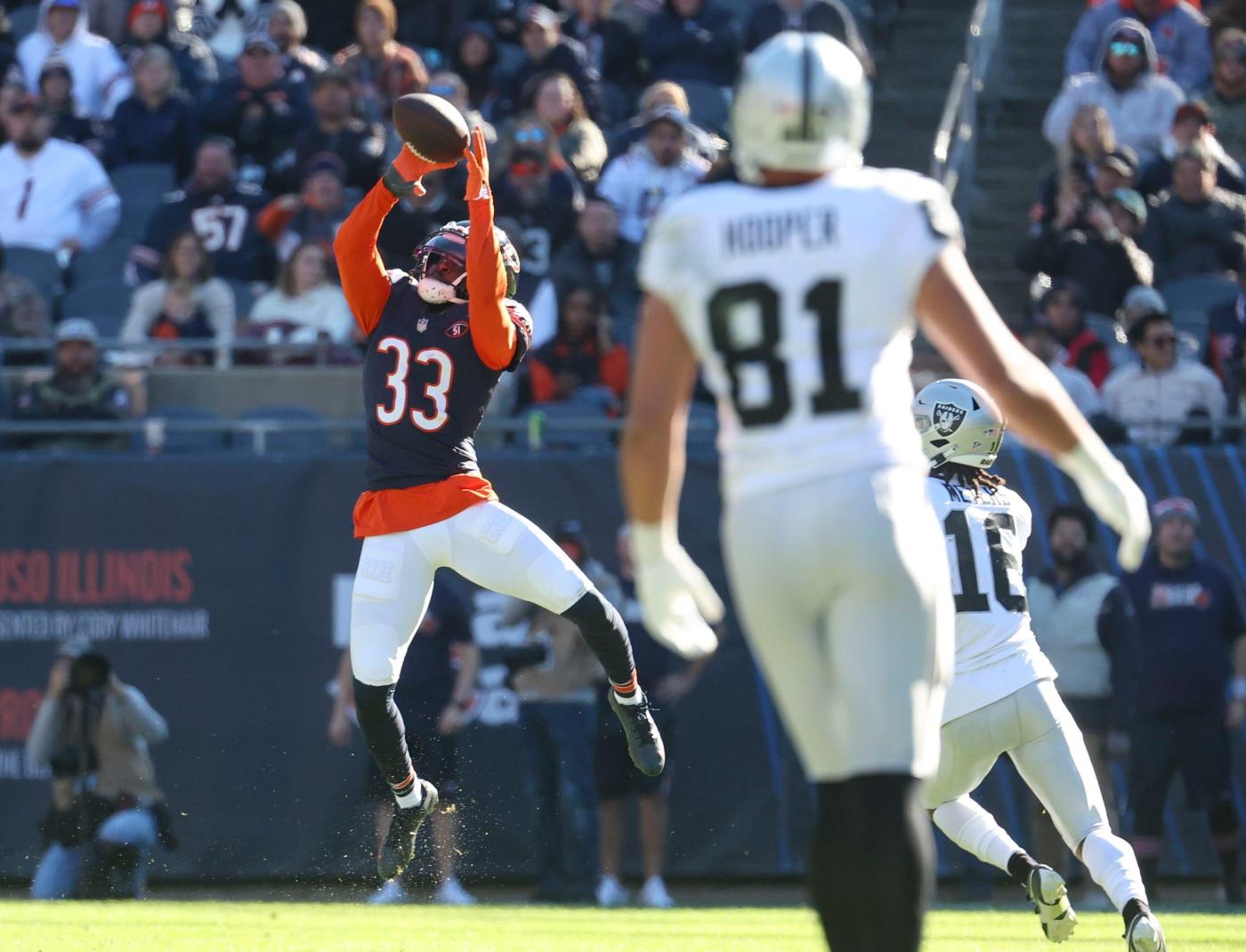 Chicago Bears at Los Angeles Chargers: Everything you need to know about the Week 8 game before kickoff
The 2-5 Chicago Bears will play the 2-4 Los Angeles Chargers at SoFi Stadium in a Week 8 matchup. Here's what you need to know before kickoff (7:20 p.m., NBC-5).
'The main thing I've learned is the room for error is a lot smaller'
Every week of Darnell Wright's rookie season, there has been social media examination of how the Chicago Bears first-round pick is faring — clips of him plowing a path in the run game with his athleticism, holding his own to allow quarterback Justin Fields time and, yes, getting beat by veteran pass rushers.
But the film of Wright's performance against the Las Vegas Raiders and two-time Pro Bowl defensive end Maxx Crosby on Sunday was unusual. For several plays in the Bears' 30-12 victory, it looked like Wright was keeping Crosby away from backup quarterback Tyson Bagent with the use of only his right arm.
Wright dealt with a left shoulder injury all last week in practice, and coach Matt Eberflus said he pushed through pain to help a Bears offensive line that paved the way for 173 rushing yards and allowed just one sack of Bagent. Eberflus commended Wright "for gutting it through," even if it didn't look pretty at times.
Wright's status this week is worth monitoring closely as the Bears prepare to face the Los Angeles Chargers on Sunday night at SoFi Stadium. Khalil Mack and Joey Bosa will be trying to get after Bagent, who is expected to make his second start in place of Fields. Read more here.
5 things to watch in the Bears-Chargers game — plus our Week 8 predictions
Stats package
Bears quarterback Tyson Bagent — in his first NFL start last week — completed 21 of 29 passing attempts for 162 yards and a touchdown and posted a 97.2 passer rating. He also had three runs for 24 yards. Bagent averaged 7.7 yards per completion and didn't attempt a pass that traveled more than 15 yards beyond the line of scrimmage but still guided the Bears to a runaway victory.
Of the last 10 quarterbacks to make their first NFL start with the Bears — Bagent, Justin Fields, Mitch Trubisky, Matt Barkley, Caleb Hanie, Kyle Orton, Craig Krenzel, Rex Grossman, Henry Burris and Shane Matthews — Bagent's first-start rating ranks second and his passing yardage total fifth. Read more here.
Bears QB Tyson Bagent is confident executing the game plan in his 2nd start: 'I don't want to put any limits'
Bears Week 8 storylines: A supercharged Tyson Bagent debate, Tyler Scott's growth mindset and Jaylon Johnson's contract desires
Stadium news
Cook County Commissioner Monica Gordon is encouraging the Bears to consider Country Club Hills, throwing what her office described as a "Hail Mary pass" to encourage the team to consider the south suburb.
Gordon said in a news release Tuesday she and Country Club Hills Mayor James Ford "are imploring the team to look at the south suburbs as an opportunity to have a positive economic impact on a part of the Chicagoland area that is ignored all too often."
"We're taking our shot in the dark here," Ford said. Read more here.
What to know about the Bears' possible move from Soldier Field — and which other suburbs are vying for the stadium
Catch up on all our coverage before kickoff
Column: Matt Eberflus puts his stamp on an improving Bears defense that will face a tough test Sunday night
Bears Q&A: What would Tyson Bagent have to do to keep the starting QB job? Could they get an offer for Jaylon Johnson they couldn't refuse?
True or false: Tyson Bagent's performance in the Bears' Week 7 win complicates the QB conversation
Will the Bears draft a QB in 2024? What to know about top prospects Caleb Williams and Drake Maye.
Bears CB Jaylon Johnson gets 2 interceptions to break 28-game streak without one: 'I deserve to be paid'
10 key moments in George Halas' life on the 40th anniversary of his death
()