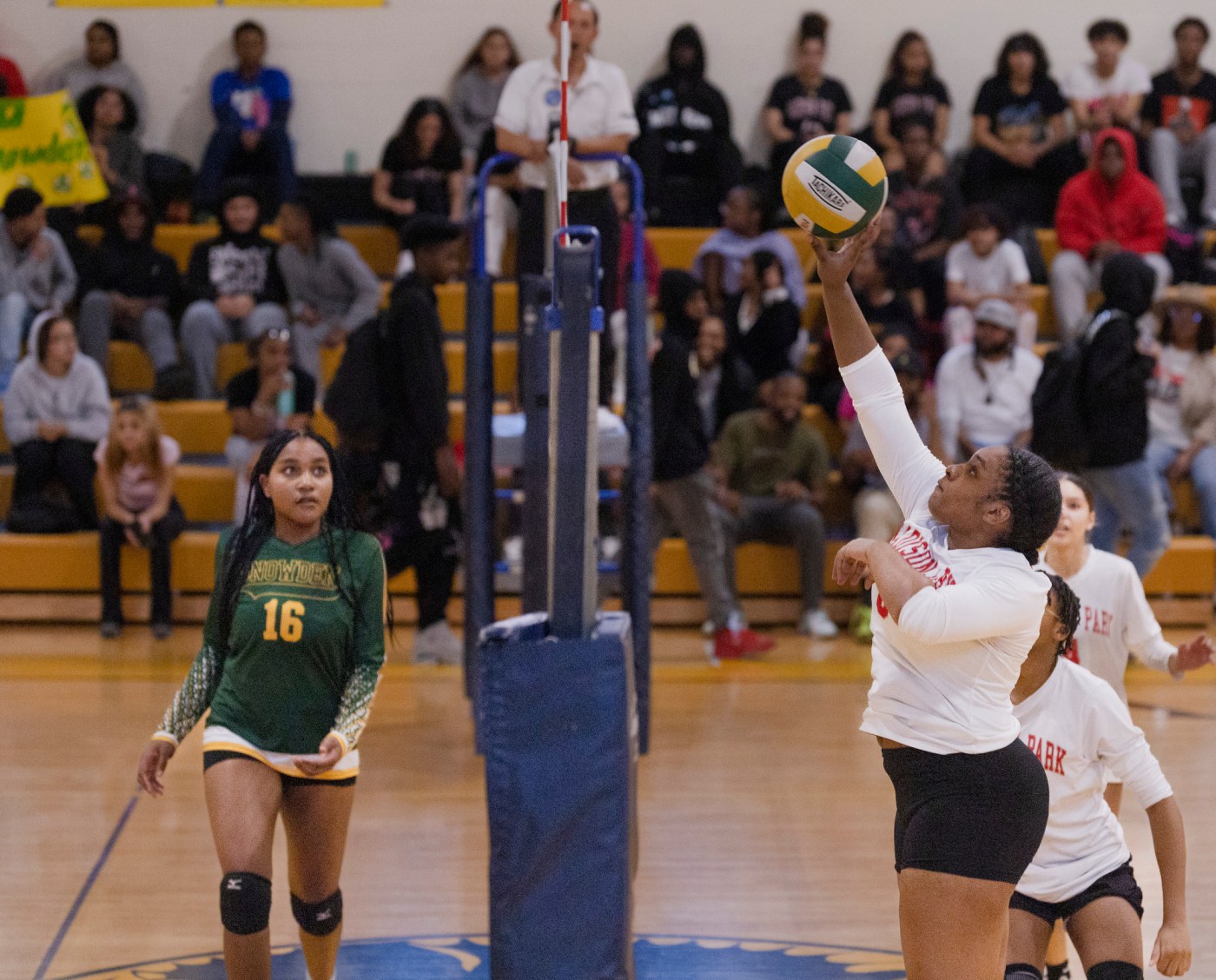 Madison Park captures BCL volleyball title over Snowden
BOSTON – Madison Park battled through some early adversity to capture its second-ever Boston City League title in a 3-1 (25-16, 23-25, 25-17, 25-19) victory over Snowden.
The Lady Cardinals grabbed their first championship since 2001 as Kiara Tejada (nine kills, two aces) and senior captain Barbara Wilson, who pretty much matched Tejada, had 10 kills, two aces and two digs in the win.
Tejada's play outside was critical, finding spots in the short game and taking advantage of the Lady Cougars' defense in the fourth and final game. The sophomore hitter came alive with four of her six kills just as Snowden crept back into things and only trailed by one, 16-15, looking to tie the series 2-2.
But Tejada and two aces from Naisha Marte sealed things up for Madison Park as it pulled away with a 24-17 lead enroute to the third win for the match victory and created the on-court frenzy for the Cardinals faithful.
"Coach just told me what to do, and I just started tipping but when I saw that the set was right, that's when I started to kill (the ball)," said Tejada. "(Wilson) has really improved since day one with her hitting and is really a leader. To me, I aspire to be like her and hit just like her."
Wilson, while a senior, is also only in her second year playing volleyball and was credited with the Most Outstanding Player of the Game for the Boston City League championships. Head coach William Harvey credited his young roster for pulling together the surprising victory.
"So, people do not realize that (Tejada) is only a sophomore and both of them are picking up the game really quickly," said Harvey. "This whole season has been a slow swing, so it just came on at the right time so hopefully it's going to be with them for the rest of their high school careers."
In game two, Lady Cougars head coach Kim Molle called a timeout down three points with a sideout to the Lady Cardinals. Molle isn't sure what clicked but Snowden didn't make things easy for Madison Park and rattled off six of the final seven points to tie things 1-1 before inconsistent defense and untimely mistakes doomed the Lady Cougars the next two sets.
Playing from behind is usually a strength for Snowden, especially at the net, but Molle felt the pressure of the event may have been a factor.
"I think that we weren't responding in the defensive way like we could have," said Molle. "They were doing a lot of shorts and we weren't picking up the shorts as much as we usually do, and it was just that both teams were equally as good as each other.
"Usually, we come from behind pretty well so I think it was just a lot of pressure, a lot of fanfare for them, and I think they got nervous ultimately and just couldn't bring that back up. They had the heart, but they just couldn't make it happen."
The third and fourth games were tied midway through, but Madison Park was too strong on the outside and in the middle as setter Reishmell Tejada Arias had a game-high 18 assists while Emily Ramirez De Jesus added 16 digs and four aces for the Lady Cardinals. Both are also only second-year players for Harvey.
"I let (Tejada) know after the second set that Snowden was going to pick on her and the only way to stop that is to pick on them," said Harvey. "Start picking your spots and tip, tip, tip – and when you get that chance – swing."
Madison Park's Reishmell Tejeda Arias keeps her eyes on the ball during the Boston City League girls volleyball championship game win over Snowden. (Libby O'Neill/Boston Herald)