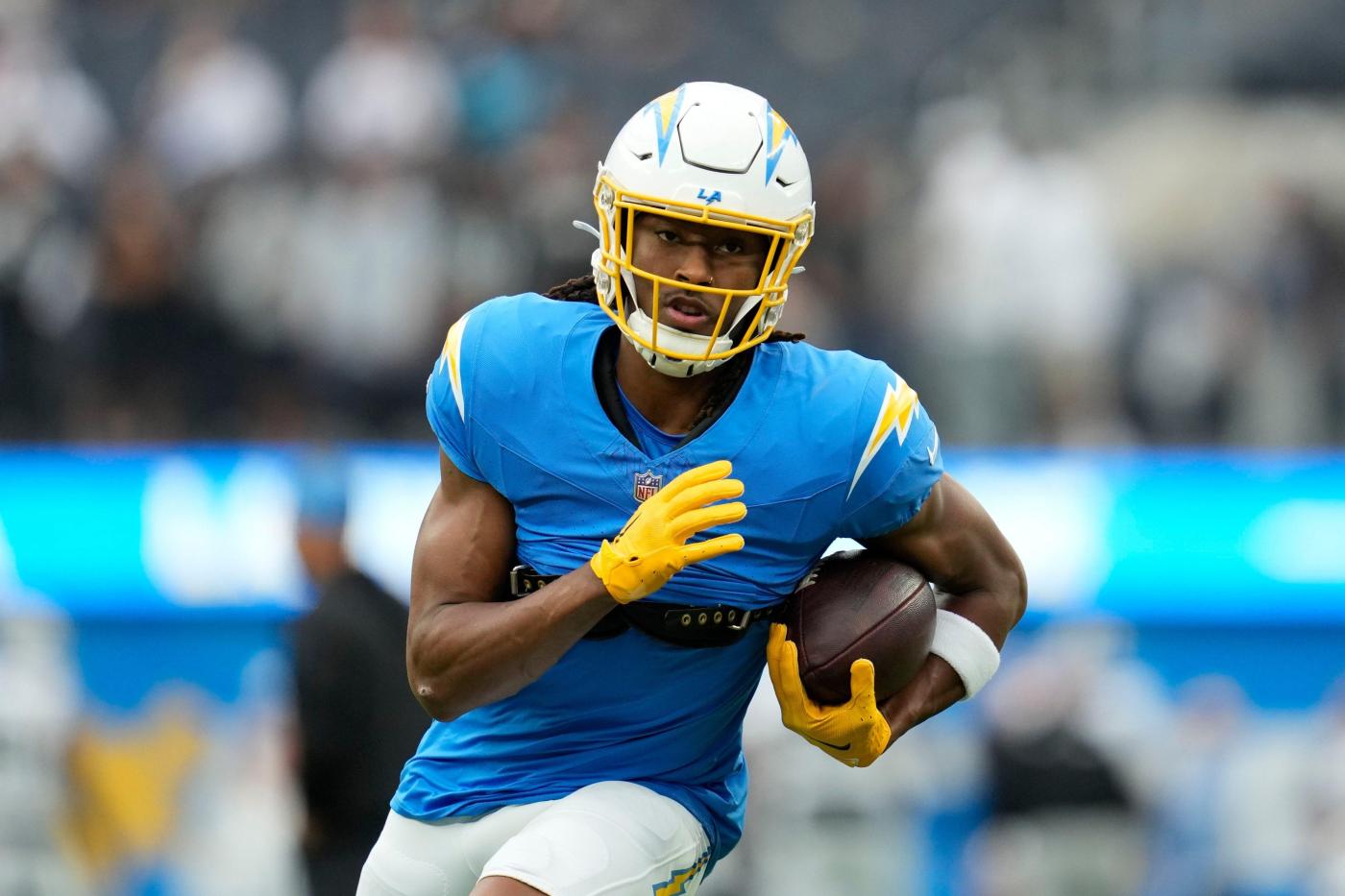 Column: Matt Eberflus puts his stamp on an improving Chicago Bears defense that will face a tough test Sunday night
As Matt Eberflus settles into his role as defensive play caller with improving results, it's worth wondering how things have shifted — or if they have — since he took over for coordinator Alan Williams in Week 2.
Familiar issues remain for the Chicago Bears (2-5), who enter Sunday's game against the Los Angeles Chargers (2-4) at SoFi Stadium having won two of their last three games. They struggle to get after the opposing quarterback, which could be problematic against Justin Herbert.
Eight of their 10 sacks (which ranks 31st ahead of only the Houston Texans' nine) have come in the last three games. Five were against the Washington Commanders' Sam Howell, who has been sacked a league-high 40 times. Howell is not on pace to set an NFL record for sacks in a season (76, David Carr, 2002 Texans), he's on track to smash it. At the current rate, he will be sacked 97 times because he lacks an internal clock once the ball is snapped.
Four of the Bears' six interceptions have come in the last three games. All but one of the six (against Howell) came against a backup quarterback — take them when you can get them.
The Bears have allowed only 44 points in the last three games and four touchdowns and they've also limited opponents to 29.4% on third down in that span, which ranks third in the league. They have allowed 40 explosive plays (passes for 15 yards or more and runs of 10-plus yards), the 13th most in the league. In the last three weeks, there have been only nine, which ranks No. 2.
It's a huge turnaround. Since the start of last season, the Bears' defensive issues have been a little overlooked at times with a hyperfocus on the organization's ongoing quarterback issues.
What has shifted under Eberflus, one of six head coaches to call defenses for his team?
"Flus does a good job of hearing what his players want and trying to include that with the game plan," defensive tackle Justin Jones said. "That is the only thing I would say is different."
The blitz rate has ticked up a bit of late. The Bears have pressured with five or more rushers 22.6% of the time since Week 2, which ranks 20th. That rate is 28.1% over the last three weeks, middle of the pack leaguewide at 15th. It has led to only modest results. The Bears' pressure rate in six games with Eberflus calling plays is 22.6% (30th) and it's 23.7% (26th) in the last three games.
So it's not as if turning linebackers and member of the secondary loose has made a dramatic difference. But Eberflus has been pushing the right buttons, and the numbers hint at things trending in the right direction even when you consider the degree of difficulty facing Howell and the Commanders and Las Vegas Raiders backups Brian Hoyer and Aidan O'Connell, along with talented Minnesota Vikings quarterback Kirk Cousins minus his best receiver, Justin Jefferson.
"Flus is starting to get to know the guys he has and we're starting to get to know him," said defensive end DeMarcus Walker, alluding to the major personnel changes the team had in the front seven to begin the season. "It's really cohesive. That's been a big element, he and us getting comfortable with his play calling and we're talking through all the week and even on game day on the sideline. It's pretty consistent."
Coverages on the back end remain the same. The Bears are playing more Cover-2 than anything else, but just more than Cover-3 and one man, so they're mixing it up and, of course, the game plan is going to shift a little depending on the opponent.
"For me, just seeing him all those years in Indy, it kind of feels the same," linebackers coach Dave Borgonzi said. "It's both the execution and the call. He's got a great feel for in-game calling. It's made a real difference."
One minor shift is the Bears have moved to using dime personnel — six defensive backs — since Eberflus took over. They've used more man coverage and pressed a little more. That's probably a small part of the success on third down, which was a disaster last year and through the first month of this season.
"Overall, it's just the guys that are coming together," cornerback Jaylon Johnson said. "I don't think that he's really changed too much. The plan, the mission has been the same. I know we made some adjustments on third down but I feel like other than that, just the attitude of the guys, the execution that we're playing at is a lot different these last few games."
Linebackers Tremaine Edmunds and T.J. Edwards are fitting in nicely and playing off the linemen, a big reason why the defense ranks fifth in run defense allowing 82.3 yards per game, nearly half from a year ago at 157.3. Is much as the Bears were hammered for not stopping the run in 2022, this is a significant improvement, and nose tackle Andrew Billings has been a positive addition.
Injuries throughout the secondary — and the lack of a pass rush — are primary reasons the defense is allowing 257.1 passing yards per game, 29th in the league. There's room for improvement, and the Bears are encouraged by the development of rookie cornerback Tyrique Stevenson knowing he's going to have ups and downs playing on an island.
Rookie tackles Gervon Dexter and Zacch Pickens haven't provided a lot for the pass rush and that is an area to keep an eye on in the second half of the season. Can they begin to make more plays as they gain experience?
The Chargers with Herbert, wide receiver Keenan Allen and running back Austin Ekeler present a good challenge to see if a young defense can continue to perform at a consistent level, which would be a positive sign especially with how the schedule for the remainder of the season sets up.
"I would just say it's really teamwork," Eberflus said. "Really is. Working together, having that continuity. I believe getting the secondary pieces back really helps us in terms of coverage variation, matchups, being able to process through that as coaches and players. We're just working through that."
Scouting report
Quentin Johnston, Chargers wide receiver
Information for this report was obtained from NFL scouts.
Quentin Johnston, 6-foot-4, 215 pounds, is in his first season after the Chargers selected him with the No. 21 pick out of TCU. Johnston caught 60 passes for 1,069 yards, 17.8 average) and six touchdowns last season and two years after setting a Big 12 Conference record by averaging 22.1 yards per catch.
The rookie is off to a slow start as he has only seven receptions on 15 targets for 64 yards. He has only two catches for 38 yards over the last three games as the Chargers seek a replacement for Mike Williams, who is out for the season after suffering a torn ACL in his left knee.
"They drafted him because (offensive coordinator) Kellen Moore came in and the biggest thing I saw, they had this quarterback with rare physical tools who they made into a West Coast thrower," the scout said. "Unders, ball out quick, using some boot, some play action, attacking the middle of the field. They were not explosive enough because you have Keenan Allen. He's like the next Larry Fitzgerald. He can get open, make plays for you, move the sticks. Elite coverage awareness but not an explosive player. Mike Williams, contrary to everyone's opinion, is a boundary X who is not an explosive player. He's a fade-ball guy. They needed someone who can catch the ball on a fade route and go to the house, someone who can run a deep in route and run away from coverage. They needed someone who can catch a wide receiver screen and run through people.
"That's why they drafted Johnson. He has the physical profile to be that player, but if you go back to his college tape, lot of drops, very raw as a route runner and played in the Big 12, where he saw a lot of basic coverages and presnap you know exactly what you are getting. I think he has struggled in the NFL because he lacks coverage awareness. He's finding out he can't just win with physical tools. And there is an issue right now, even when they scheme for him, they can't get him to produce. They've gone from being that explosive offense they want to be to being what they were last year. Don't want to kill the kid seven games in or compare him to Jordan Addison and Jaxon Smith-Njigba, but the production is not there. Great example of, 'We'll draft the traits and figure it out later.' They haven't figured it out yet."
()