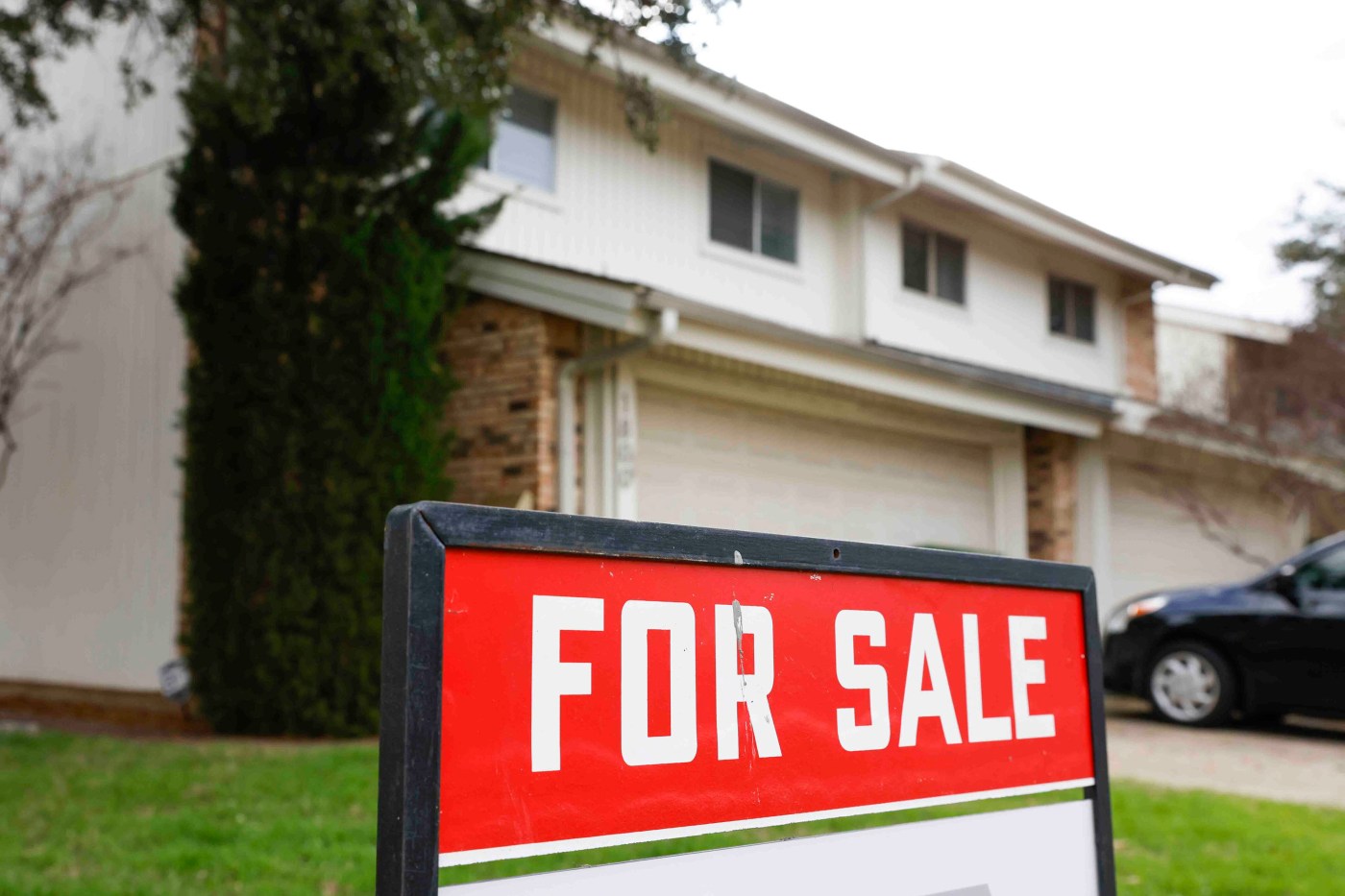 Should I buy a house now or wait? Experts weigh in on the current market
Prospective homebuyers across the U.S. are feeling the squeeze amid high home prices and steep mortgage rates. Up against these challenging conditions, many homeowners are disinclined to sell, further restricting the already-short supply of homes on the market.
"The unintended consequence of the so-called lock-in effect has limited the supply of homes for sale, because most owners have relatively low mortgage rates and don't want to move," explains Mark Hamrick, Bankrate's senior economic analyst.
As a result, today's housing market looks different than it has in past years. "Buyers and sellers both typically take a step back in the fall, but mortgage rates now near 8% are cooling the market faster than normal," says Jeff Tucker, a senior economist at Zillow. "A lack of competition from other buyers is offering opportunities to those still in the market, as many listings are lingering after the summer shopping season." Read on to learn all about the current state of the U.S. housing market.
Key factors driving the U.S. housing market
—Home prices are sky-high. According to the National Association of Realtors (NAR), the country's median existing-home price topped $400,000 three times this year — in June, July and August — coming within just a few thousand dollars of its highest median ever on record ($413,800, in June 2022). September was the year's third consecutive month of year-over-year median home price increases.
—Housing inventory is too low to meet demand, resulting in a nationwide housing shortage that has been tough to dent. September saw just a 3.4-month supply of homes for sale, per NAR data, which is well short of the 5 or 6 months required for a healthy, more balanced market.
—The pace of new construction has not yet been able to meaningfully ease the shortage. Both new building permits and housing starts, a metric that measures the beginning of construction on a new residential home, saw year-over-year declines of more than 7% in September, according to data from the U.S. Census Bureau and Department of Housing and Urban Development.
—Mortgage interest rates continued climbing, topping 8% in mid-October for the first time in 23 years. Just two years ago, in October 2021, rates were below 3.5%. This challenge alone puts buying a home out of reach for many Americans for the time being.
Local markets have their own dynamics
Local market conditions can vary widely by region, state or even individual city. The disparities mean that your money can go much further in some markets than in others.
The unique Florida housing market is a perfect example. The Sunshine State led the country in net migration last year, according to a study by NAR — meaning it topped all other states in terms of new residents moving there — despite being in the throes of a home-insurance crisis that has made some properties uninsurable. Perhaps that's why its home prices remain right on par with the national median, even with outsize buyer demand.
On the other hand, median home prices in notoriously expensive San Francisco remain far above $1 million ($1.33 million as of September 2023), according to Redfin data. This despite a 5.4% year-over-year drop and the state of California actually losing residents last year, rather than gaining them.
In Austin, Texas, meanwhile, prices have been on a roller coaster influenced by a boom of tech companies and remote workers. According to Redfin, the median home price started 2021 at $465,000, then skyrocketed to a high of $670,000 by mid-2022 before dropping back down to $525,000 and then jumping past $600,000 again in 2023. Even with these fluctuations, Austin was named the best place in the country to start your career in a recent Bankrate study.
Navigating the current housing market
Thinking of buying or selling a home soon? Your experience will vary based on a wide variety of factors, including mortgage rates and home prices, both of which are at historically high levels.
While experts predict that the market will cool down eventually, they're confident that there will not be a housing market crash akin to the Great Recession in the early 2000s. Inventory is still too low, and demand too high, for a crash — plus, mortgage lending standards today are much stricter than they were back then.
On the whole, sellers still have the upper hand — but as illustrated above, that could range wildly from one geographic location to another. "Depending on the market, location and price point, sellers could find either multiple offers or the need to be flexible on price," says Hamrick.
And buyers who are willing to brave the market should stay on their toes. "Buyers should be aware that attractive listings still sell quickly," says Tucker.
Should I buy a house now or wait?
Is now a good time to buy a house? Whether to buy now or wait is a big decision that depends a lot on your personal circumstances. Yes, mortgage rates are currently high, but days-on-market figures are up too, giving you more time to make an informed decision. And there's no guarantee things will improve if you hold off.
If you're ready to buy, remember that you don't have to go for your dream home right away. Look for what you can afford now. "Prospective buyers might need to dial down their aspirations for what they're willing to buy," says Hamrick. If you have a strong credit score and enough saved up for a down payment, buying now will allow you to start building equity immediately — you can always refinance if rates go down later.
Should I sell a house now or wait?
Low inventory levels mean sellers have the upper hand in most of the U.S. But with mortgage rates and prices remaining elevated, buyers are wary — which makes selling more challenging.
With that in mind, deciding whether now is a good time to sell your house can be tricky. Again, it depends on a number of personal factors. Selling may be a good idea if you're ready to downsize or retire, or if you need to relocate. But if you need to then buy a new house, the tables will be turned and you'll be facing the same headwinds buyers currently are. Before you list your home, make sure you have a good understanding of how much it's worth, so you'll know what kind of profit you stand to make and if it will be worth it.
Next steps
If you think you're ready to start your homebuying journey, it's important to keep saving as much as possible and working on your credit. A bigger down payment can save you thousands in mortgage principal and interest in the long run, and a higher credit score will help you snag a more competitive rate, which will also result in a more affordable monthly payment.
And be sure to team up with an experienced local real estate agent who can help you navigate your local market successfully. A knowledgeable agent can help sellers price and market their home competitively, and help buyers negotiate a good deal on a home that meets their needs — or at least comes as close as possible. Ask friends and family for recommendations and try to interview at least three candidates before settling on the right agent for you.
FAQs
—Are home prices dropping or rising in the U.S.?
They are rising. According to information from the National Association of Realtors, the median home price in the U.S. rose 2.8% between September 2022 and September 2023 and currently stands at just below $400,000. The median sale prices for July, August and September were all record highs for that month.
—Is the U.S. housing market going to crash?
The U.S. housing market has cooled, but experts agree that it will not crash. This is largely due to the fact that there is not enough housing inventory to meet demand — meaning more people want to buy a house than there are houses on the market to buy. Other reasons include strict lending standards and relatively low foreclosure rates.
(Visit Bankrate online at bankrate.com.)
©2023 Bankrate.com. Distributed by Tribune Content Agency, LLC.