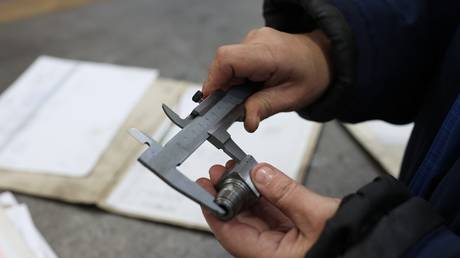 Russian machine tool industry looks to recover Soviet era glory
Demand has grown as a result of sanctions and the ongoing military operation in Ukraine
A wave of sanctions and current military engagements have sharply increased demand for domestic machine tools in Russia, Semyon Yakubov, the CEO of RT-Capital, a subsidiary of state-run corporation Rostec, told business daily Kommersant on Thursday.
Russia's largest machine tools manufacturer, the STAN group, came under the control of Rostec's subsidiary for work with non-core and distressed assets in 2019. Back then, the producer was in dire financial straits, unable to service loans or complete the orders dated from 2017.
In 2023, the number of orders has nearly doubled and amounted to 6 billion rubles (over $64 million), according to Yakubov, who said the STAN group had never seen such volumes.
"We are planning to receive orders for 13 billion rubles ($139 million) for the next year with most of the contracts already signed," he said, noting that current demand is much higher than the group can meet.
Yakubov added that the manufacturer was currently servicing orders from both the country's military-industrial complex and the civilian sector.
"We began working with state-owned companies, where there is a great need for modern high-precision and complex machine tools," he said, adding that the company was planning to expand the product portfolio to compete with foreign suppliers.
Read more
Sanctions may ground Russian airliner
According to the CEO, it was impossible for the STAN group to compete with foreign producers before sanctions were introduced, as the company was forced to create machine tools from scratch, while international majors supplied fully manufactured products.
"Now we have an opportunity to revive a strong machine tool industry to what it was in the Soviet Union," Yakubov said, explaining that now all the unfriendly players have left the country, and state support is focused on the industry.
The manufacturer is currently operating five plants in Moscow, Sterlitamak, Kolomna, Ivanovo and Ryazan, with a new production site expected to be launched next year, which will focus on making grinding machines in Lipetsk.
According to Yakubov, the company is also planning to build two new plants in Moscow Region and in the Urals.
For more stories on economy & finance visit RT's business section