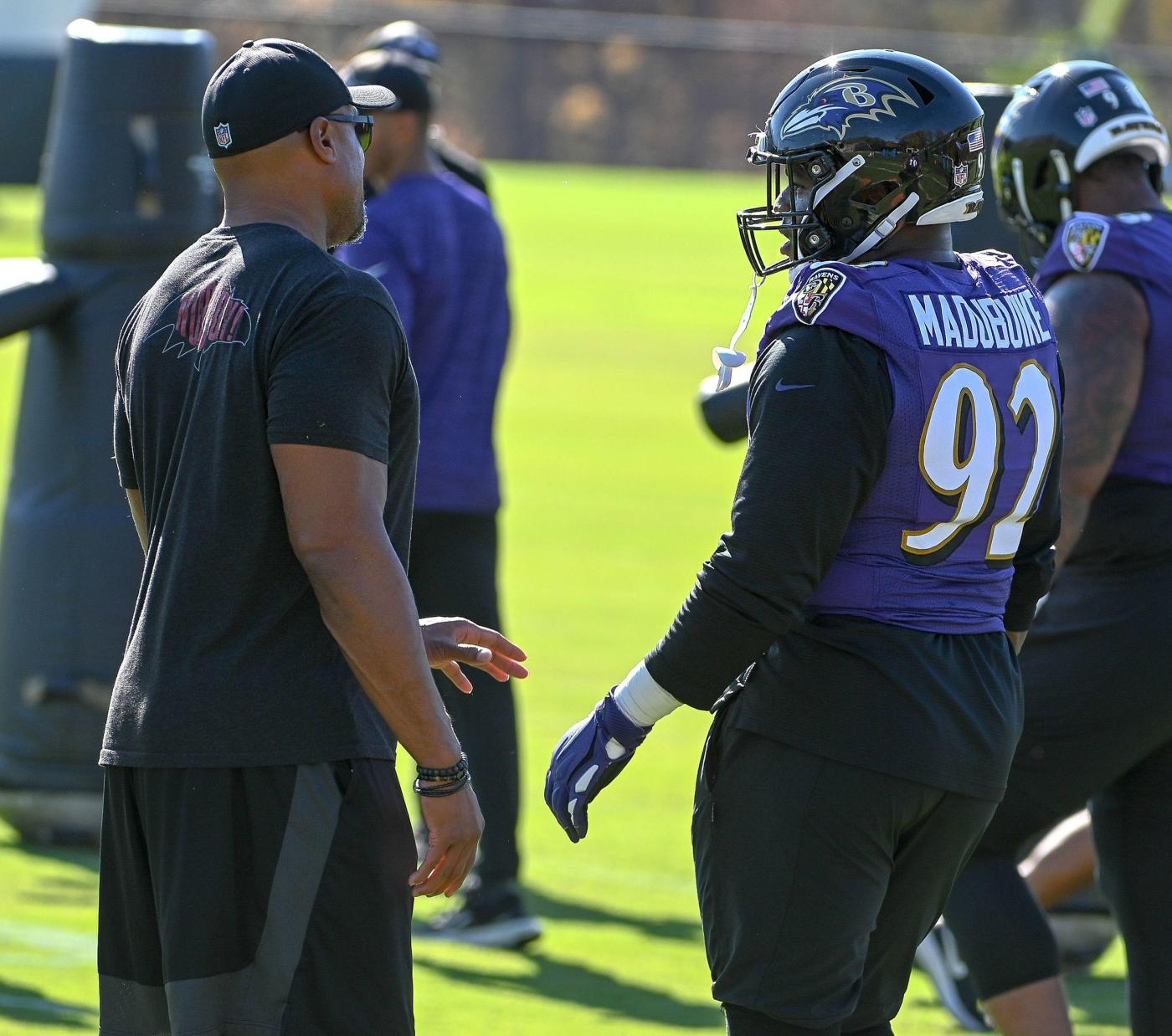 Ravens DT Justin Madubuike sees his diligence pay off in sacks as free agency approaches
His production at Texas A&M and his quickness at 293 pounds screamed "pass rusher."
Justin Madubuike never felt he got that credit, however, from NFL scouts or coaches. They harped on his lack of bulk, said he needed to fire off the ball faster, questioned his consistency.
For three years with the Ravens, Madubuike tantalized, sprinkling brilliant games amid longer stretches of ordinary ones. NBC's Peter King famously touted him as a dark horse candidate for Defensive Player of the Year before the 2021 season, jumping the gun but accurately hinting at the excitement Ravens coaches felt when they glimpsed Madubuike at his best.
Consistency? Well, he needed to strive for that.
Madubuike started keeping a journal so he would never lose sight of his goals. Former Ravens teammate Justin Houston connected him with private coach Chuck Smith, known around the league as "Dr. Rush," in part for his work with Aaron Donald, perhaps the greatest interior pass rusher of all time. Madubuike gobbled up tips from Smith, now the Ravens' outside linebackers coach.
He feels all that toil is finally paying off.
"I think it's night and day," he said, looking back on the player the Ravens drafted in the third round in 2020. "I think that was one of the red flags on me coming out of college, that I couldn't rush the passer. I knew I could. I just needed to get tuned up on it, and I feel that I put in the work."
Madubuike, 25, is tied for ninth in the league with 5 1/2 sacks, and all the players above him are either defensive ends or outside linebackers. Among defensive tackles, he shares the sack lead with All-Pro Chris Jones of the Kansas City Chiefs. His 2023 season isn't one great game surrounded by a bunch of less notable efforts. Yes, he had two sacks and four quarterback hits in the Ravens' victory over the Tennessee Titans in London, but he followed that up with three tackles, two quarterback hits and a sack in their 38-6 demolition of the Detroit Lions. He's playing a career-high 67% of defensive snaps.
"I think he's continued to grow ever since he's been here," Ravens coach John Harbaugh said. "He's always had a lot of upside, for sure. You would see the dominant plays here and there. He's just made more of those. [He's] more explosive, more consistent with his technique — all those kind of things that you would expect as a player would grow and get better who works as hard as he does consistently. You'd expect his play to be more consistent, and I think that's what's happened."
Teammates and coaches noticed how badly Madubuike wanted to be great. That's why they're so happy for him.
"He's been diligent," nose tackle Michael Pierce said. "It's always exciting when you have teammates who get what they've been working for. That dude is a physical specimen. I know guys have been saying that in interviews for years, but it's showing through now."
Madubuike is a key member of the 2020 draft class that has taken center stage for the Ravens' top-ranked scoring defense. Linebacker Patrick Queen, second on the team in tackles and sacks, has silenced those who declared him a first-round bust. Linebacker Malik Harrison is a rugged edge setter. Broderick Washington, one of Madubuike's partners on the interior, has already signed a three-year, $15.25 million extension. Seventh-round pick Geno Stone is leading the league in interceptions.
"It's flying by," Madubuike said of their four years together. "Guys like Marshal Yanda would always say that, and you wouldn't believe them, but it's crazy. The days are long and the years are short."
With these performances come financial implications. Madubuike, Queen and Stone are headed for free agency after this season, and all three seem to pump up their value every week. Fans are debating whether the Ravens, without a lot of wiggle room in their projected salary cap for 2024, can afford all three. If not, which young defender should be their top priority?
It's not a subject Ravens officials are interested in discussing at the moment. "I'm not really thinking about guys' contracts right now," Harbaugh said. "[I'm] thinking about the next game."
Madubuike has said repeatedly that his next contract is a secondary concern during the season. Does he like that fans are making his case for him on social media?
"It's better than them saying I want him to get cut or he should get out of here," he said. "But I'm just tuning it all out, trying to put my best foot forward and start the journey over again, over again every single day. That's the only thing you can do really if you're wise."
What he knows for sure is that pass rushers are precious commodities on the open market, and those who menace quarterbacks from interior lanes represent an even rarer subset. Javon Hargrave, coming off an 11-sack season in 2022, signed a four-year, $84 million deal with the San Francisco 49ers.
"I told [Justin] you've got to do your best not to worry about it too much," Pierce said. "I think during the season, especially when you're having success, it's easier because you know you're on the right track. The worry kicks in again after the season. I never had that level of success, so I'm sure he's sleeping a lot easier than he would be if he were sackless."
Pierce laughed. As a veteran with 6 1/2 sacks to his name in 78 career games, he knows how difficult it is for trench warriors such as Madubuike to produce as pass rushers.
"You have to have some God-given ability," he said. "The three-techniques that come to mind who've had that type of production, it's Aaron Donald and maybe a few other people. [Justin has] been working on this for years, so to see it come to fruition, that's big-time."
Defensive coordinator Mike Macdonald agreed, saying Madubuike is a classic case of "someone says you're an overnight success when it's really like 10 years of hard work."
His inside pressure is a "huge" part of Macdonald's scheme. "There's more gaps than there are rushers a majority of the time, so interior rush is going to be very important to push the pocket," Macdonald said. "I'd be remiss not to mention guys like Michael Pierce and [Broderick] and Travis Jones. A lot of times those guys are taking the double teams and pushing the pocket, which allows other guys to have single blocks. That's what makes the whole thing go."
Madubuike seems disinclined to talk about the future in part because he's having so much fun now as one of the interlocking parts in a defensive machine that's functioning spectacularly. Sometimes, it's Queen stunting and opening a lane for Madubuike to roar through. Sometimes, it's Madubuike tying up a blocker or dropping into coverage so a defensive back can fire at the quarterback from an unexpected angle.
"He just truly cares about the team, what it takes to get the win," linebacker Roquan Smith said. "Whether that's him making the play or him setting up the play for someone else. I've got a lot of respect for him."
The Ravens lead the league with 29 sacks in part because offensive coordinators have little idea where to look for the next pressure.
"Sometimes, it clears things up for me. Sometimes, I have to be the selfless one," Madubuike said. "It's give or take. The main objective is to make the quarterback uncomfortable. I would just say we're all on the same page."
Chuck Smith, who's still helping Madubuike refine his technique, said before the season that fans would be able to identify a signature move for each Ravens pass rusher.
Does the team's sack leader believe he has one?
"I think I have the whole bag," he said, grinning. "And I'm getting better."
()