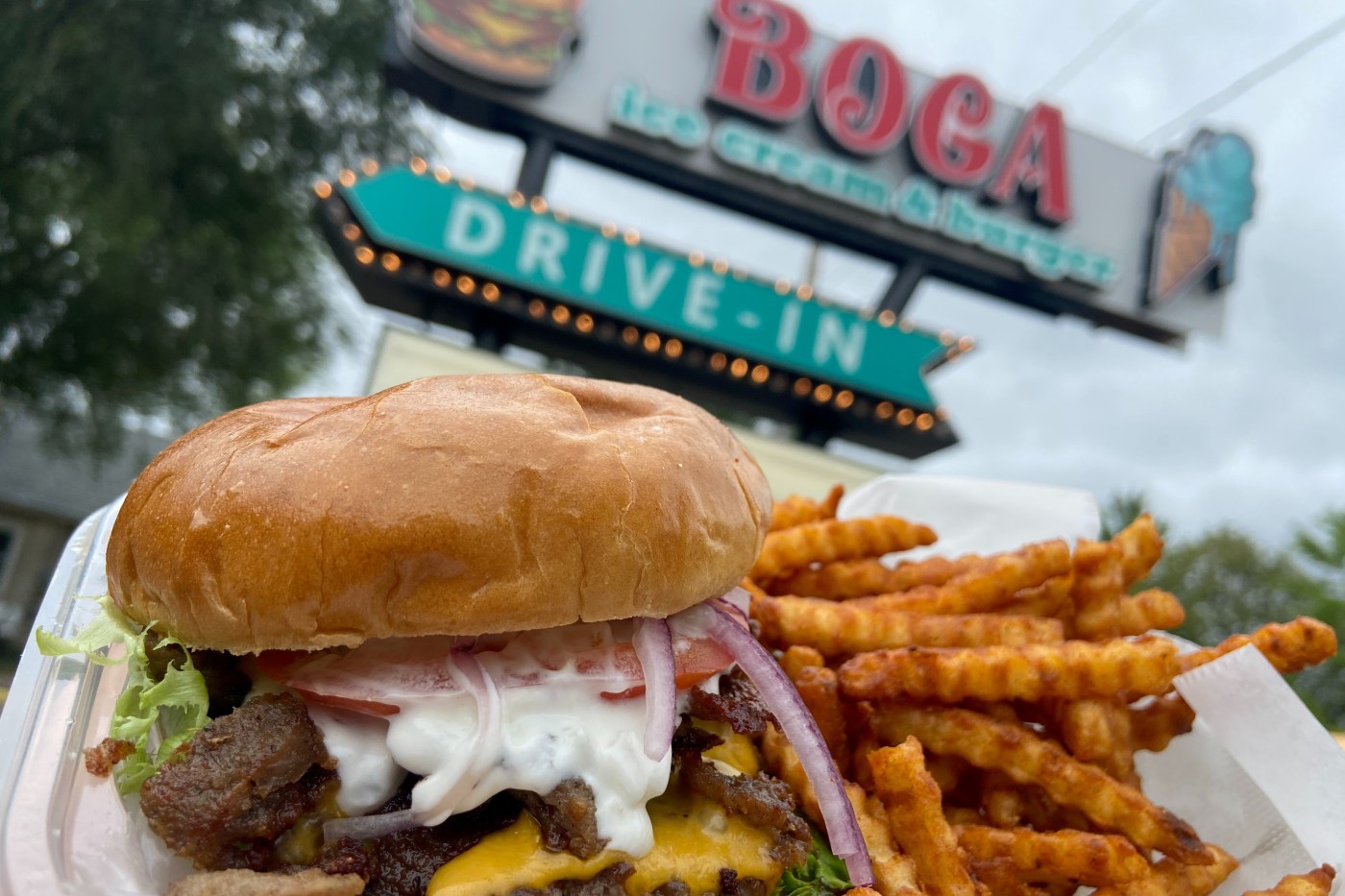 Our annual guide to the best neighborhood burgers in the Twin Cities
These eight spots close to home serve a crave-worthy burger.
New or updated entries are marked with an asterisk.
If you have other suggestions, please email them to us at eat@pioneerpress.com.
Other categories from our 2023 guide:
Burgers for beer (and cocktail) hounds
'Cheffy' burgers
Cult burgers
Destination burgers
Dive bar burgers
Neighborhood burgers
1. * MyBurger
Although this local chain is dangerously close to fast food, the burgers themselves are a big step up from what you can get in a drive-through. Properly seasoned, smashed on a griddle but still juicy enough, with quality toppings and reasonable prices, it's a family-friendly option for busy nights. The fact that the St. Paul location is on a busy corner without much parking kept us from trying these burgers for too long.
My Burger: Multiple locations, including 1580 Grand Ave., St. Paul; 651-330-7816; myburgerusa.com
The burger at MyBurger on St. Paul's Grand Avenue. (Jess Fleming / Pioneer Press)
2. * Tiffany Sports Lounge
The first time we tried a burger at Tiff's, it was probably a decade ago, and we were, to put it politely, unimpressed. Since then, the neighborhood bar and restaurant has upped its game, succumbing to the double-smash trend and doing it pretty well. We are especially big fans of the Tommie Smash, a messy affair that involves a queso-like pepper-jack sauce, jalapenos, bacon and chipotle ranch. It's a juicy, spicy, delicious mess, though, in a beloved neighborhood spot.
Tiffany Sports Lounge: 2051 Ford Parkway, St. Paul; 651-690-4747; tiffanysportslounge.com
The Tommie Smash burger at Tiffany Sports Lounge in St. Paul. (Jess Fleming / Pioneer Press)
3. * Mac's Diner
This North St. Paul spot opened a little more than a year ago, picking up the proverbial torch (and restored neon sign) from the landmark but long-closed Mac's Dinette. New Mac's is bright and tastefully retro, and their signature burger — the Mac Daddy — is a nicely crispy-edged double smash with sauteed onions, fairly gooey cheese, pickles and a house burger sauce. Their other burger, the Rodeo Smash, tops its two patties with cheddar, bacon, barbecue sauce, seasoned sour cream (unnecessary) and crispy onions (very necessary). The "M" logo branded into the buns is a nice touch, too.
Mac's Diner: 2526 E. 7th Ave, North St Paul; 651-777-9995; macsdinernsp.com
The Mac Daddy (left) and Rodeo Smash (right) burgers at Mac's Diner in North St. Paul, on Oct. 14, 2023. (Jared Kaufman / Pioneer Press)
4. * Boga Ice Cream and Burger
There's new life in the old Dari-Ette Drive-In spot on Minnehaha Avenue thanks to Boga, a walk-up burger stand that opened this summer from the same family behind Afandina Cafe in Columbia Heights. The burgers are affordable and creative, if a little imperfect. Their signature gyro burger is tasty, but, during a visit earlier this fall for our Small Bites restaurant review column, the gyro meat atop the cheesy patties felt like an afterthought. The seasoned fries and cheese curds are both stunning, though, and a scoop of dense gelato is a sweet way to finish out the meal.
Boga Ice Cream and Burger: 1440 E. Minnehaha Ave., St. Paul. 651-200-3785
The gyro burger at Boga Ice Cream & Burger in St. Paul. (Jared Kaufman / Pioneer Press)
5. Groveland Tap
This restaurant, known for its great burgers and a tap beer list a mile long, was recently renovated to add a bar to sit at while you wait for a table, which was a great move. The single-patty burgers here are just the right size, loosely pattied with a perfect amount of crisp on the outside without being overcooked. Though we're not always a fan of distracting from a great burger with too many toppings, the stroganoff burger with its sauteed mushrooms, melty swiss, sour cream and chives is undeniably awesome.
Groveland Tap: 184 St. Clair Ave., St. Paul; 651-699-5058; grovelandtap.com
The stroganoff burger at Groveland Tap in St. Paul. (Jess Fleming / Pioneer Press)
6. Pillbox Tavern
This downtown St. Paul spot opened just before the pandemic closures of 2020, and it's still chugging along, even without the full downtown workforce. And for burger lovers, that's a great thing. All burgers start with six ounces of juicy, properly charred meat and a Grandma's bakery bun — so really, it's all about your preference of toppings, of which they have plenty.
Pillbox Tavern: 400 N. Wabasha St., St. Paul; 651-756-7566; pillboxtav.com
Tillamook burger at Pillbox Tavern in St. Paul. (Jess Fleming / Pioneer Press)
7. Foodsmith
This little gastropub, which has a great beer list (but also decent wines and a craft cocktail menu), is one of our favorite spots for a casual, weeknight nosh, and the burger is one we crave. It's a single, juicy patty, topped with crisp iceberg and lots of pickley remoulade sauce on a pillowy milk bun. Simple, well-executed, delicious. The skin-on deep-golden fries are worth the calories, too.
Foodsmith: 973 S. Smith Ave., West St. Paul; 651-330-0896; foodsmithpub.com
The burger at Foodsmith in West St. Paul. (Jess Fleming / Pioneer Press)
8. Yum Kitchen and Bakery
If you're at this bakery and cafe, you might not think to order the burger, but we're here to tell you that you absolutely should. It's two juicy patties with really fresh lettuce, tomato, onion and a special sauce on a house-made bun. It's served with a crisp pickle and the cafe's thin, crisp and addictive house-made potato chips. This is one of our favorite lunch spots, especially if we have a meeting, because the space is bright and airy, and we never feel rushed to give up a table because there's plenty of space.
Yum Kitchen and Bakery: Four locations, including 164 N. Snelling Ave., St. Paul, 651-615-1230; and 8340 City Centre Drive, Woodbury, 651-603-4444; yumkitchen.com
The Burger at Yum Kitchen & Bakery in St. Paul. (Jess Fleming / Pioneer Press)
Related Articles

Our annual burger guide: Best burgers for beer (and cocktail) hounds

Our annual guide to the best burgers in the Twin Cities: Dive bars

Woodbury starts its first community garden — and fulfills one woman's dream

Our 2023 guide to the best burgers in the Twin Cities

Why are eggs so expensive and which are best? Cracking the code on carton labels