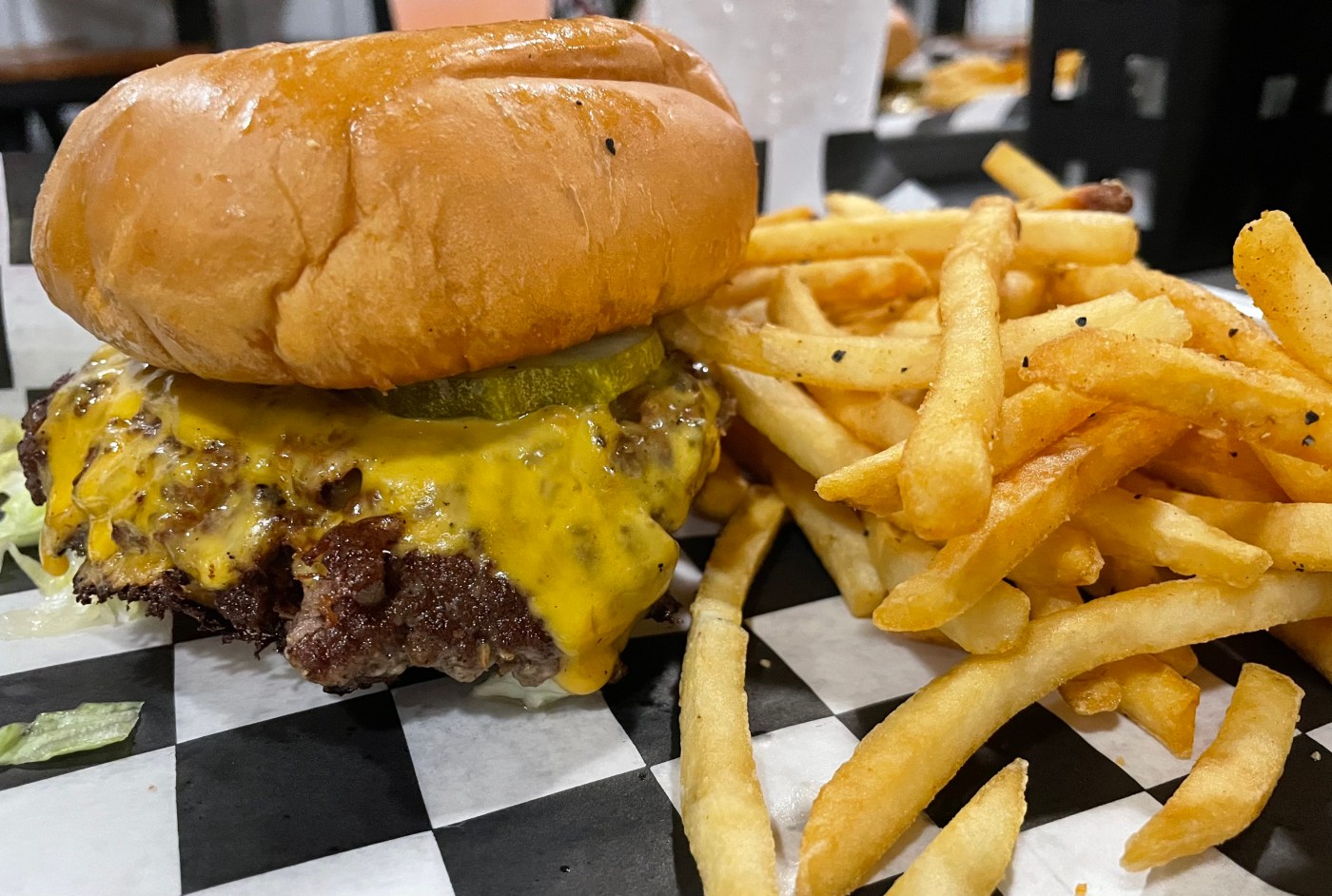 Our annual guide to the best burgers in the Twin Cities: Dive bars
They may not all have a website, but these six dive bars have regulars, pull tabs, and griddles that have been around long enough to give their burgers a little extra seasoning.
New or updated entries are marked with an asterisk.
If you have other suggestions, please email them to us at eat@pioneerpress.com.
Other categories from our 2023 guide:
Burgers for beer (and cocktail) hounds
'Cheffy' burgers
Cult burgers
Destination burgers
Dive bar burgers
Neighborhood burgers
1. * Station No. 6 at Rosetown American Legion
This popular burger-centric food truck followed the 328 Grill model, opening a food operation within the Rosetown American Legion. This is definitely a trend we can get behind — an important community space gets delicious food, and an operator gets a steady stream of new customers while also bringing its fans to the joint venture. Rosetown is very lucky to have Station No. 6, which produces one of the best, crisp-edged smashies in town. Since each patty is 5 ounces, one is definitely enough for me, but you do you. They're served topped in a number of ways, on a good bun and with fast-food fries that are actually golden brown instead of pale yellow, as the burger gods intended.
Station No. 6: 700 W. County Road C, Roseville; stationno6foodtruck.com
The burger at Station No. 6 at Rosetown American Legion. (Jess Fleming / Pioneer Press)
2. 328 Grill at the Legion
Chef Mik German brought his bar-food operation to the St. Paul Park American Legion and infused the place with new life — and new customers. Burger lovers have found their way to this off-the-beaten-track locale that serves creative, delicious burgers, sandwiches and sides. Though it's hard to pick a favorite, we recommend whatever the burger of the week is, but also The 328, a juicy patty topped with American, crisp, shredded iceberg, tomato, housemade dill pickles and an herb-infused mayo. And if you're a fan of hot peppers, the Jalapeno Bizness, infused with smoky bacon, jalapeno peppers and cheddar jack and topped with smoked cheddar and spicy mayo, is a real treat.
328 Grill at the Legion: 328 Broadway Ave., St. Paul Park; 651-459-8016; 328grill.com
The 328 Burger at 328 Grill at the Legion in St. Paul Park. (Jess Fleming / Pioneer Press)
3. Bay Street Burger Dive
With a name like Burger Dive, the burgers had better be good. And they are. Chef Nick O'Leary, who has a long résumé working at some finer dining restaurants in town, including The Lexington, where he's helming the kitchen, serves up burgers and other bar food here, and each item on this menu gets proper attention. As for the burgers, try the Wedge, a burger play on the popular wedge salad, which is a gloriously messy and delicious concoction; or the Onion, with onions in raw, fried, onion dip and onion jam forms. The latter is definitely only for onion fans, but if you're one, you'll love it. Go with friends and order all the sides — from the pierogies to the curried cauliflower to best-in-class fried mushrooms, jalapeno cheese curds and onion rings — they're all good. In fact, I prefer any of them to the fairly ho-hum fries.
Bay Street Burger Dive: 731 Randolph Ave., St. Paul; 651-294-3240; burgerdivemn.com
The Mushroom Swiss burger at Bay Street Burger Dive in St. Paul. (Pioneer Press)
4. Shantytown Bar and Grill
We'd heard about this awesome suburban dive bar, where the burgers are good and the conversation is better, for years before we checked it out — don't make our mistake. The space and the burger do not disappoint. We love the simple bacon cheeseburger, served without any pesky lettuce or tomato to muck things up. The tater tots are extra crispy and served with seasoned sour cream, but we'd come back just for the lightly battered, perfectly tender onion rings.
Shantytown Bar and Grill: 8512 Pillsbury Ave. S., Bloomington; 952-881-7223
5. Half Time Rec
The Rec's award-winning, half-pound burgers are made with good beef, cooked through but still plenty juicy, and topped with a number of options, but we prefer the one with tangy, pickled green tomatoes, and a flavorful house-made sauce. It's a three-napkin affair that goes great with a Guinness, which is usually what we're drinking at this long-standing, appropriately dingy Irish pub.
Paddy Shack at Half Time Rec: 1013 Front Ave., St. Paul; 651-488-8245; halftimerec.com
The Paddyshack Burger at Half Time Rec. (Jess Fleming / Pioneer Press)
6. Bull's Horn
Oh, how we wish that Doug Flicker and Amy Greeley's dive bar was in our neighborhood! Flicker, an award-winning fine-dining chef, has put all his know-how into making juicy fried chicken, bologna sandwiches and a really nice, reasonably-sized burger made from Peterson beef. It comes with lettuce, pickles and special sauce, and we highly recommend adding the house-made American cheese and some righteous, smoky bacon.
Bull's Horn: 4563 34th Ave. S., Minneapolis; 612-208-1378; bullshornfoodanddrink.com
The single-patty, Peterson beef burger from Bull's Horn, chef Doug Flicker's dive bar in Minneapolis. (Jess Fleming / Pioneer Press)
Related Articles

Our annual guide to the best neighborhood burgers in the Twin Cities

Our annual burger guide: Best burgers for beer (and cocktail) hounds

Woodbury starts its first community garden — and fulfills one woman's dream

Our 2023 guide to the best burgers in the Twin Cities

Why are eggs so expensive and which are best? Cracking the code on carton labels