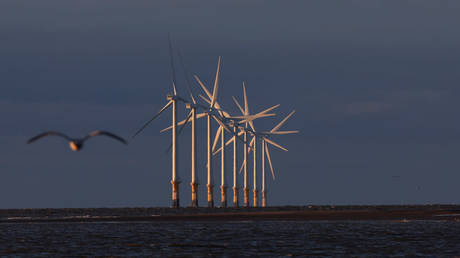 Largest UK energy producer warns of 70% price rise
A red flag has gone up after the latest bidding round saw no offers to build new wind farms
The price offered by the British authorities for electricity generated by wind farms must be increased by up to 70%, according to the head of the country's top power provider.
Tom Glover, RWE's UK Country Chair, has cautioned that without the hike, new wind parks will not be economically feasible.
According to Glover, London should pay between £65 ($79) and £75 per megawatt hour (MwH) for the power generated from the farms versus the £44 offered in the most recent government-run auction.
"We need to see a materially higher price," he said. "Every project is different but £65 to £75 feels about the right range."
His statement came shortly after the offshore wind allocation round in September resulted in no offer from developers to build new farms.
Read more
British told not to heat their homes in evenings
The terms of the government auctions obliged operators to sign up to a "contracts for difference" program that offers a minimum "strike price" for their output.
If market prices drop below the strike price, the power providers are paid the difference. If market prices are above the strike price, the generators pay the excess.
A draft plan for the next allocation round, which is currently being prepared by the government, is expected to be released within weeks. Raising the strike price could send consumer bills in the country soaring.
Alternatives like natural gas would be even more expensive than wind, according to Glover, who highlighted that Britain risks missing its target of building 50 gigawatts of offshore wind capacity by 2030 unless the next bidding round offers a price that is more attractive to investors.
For more stories on economy & finance visit RT's business section