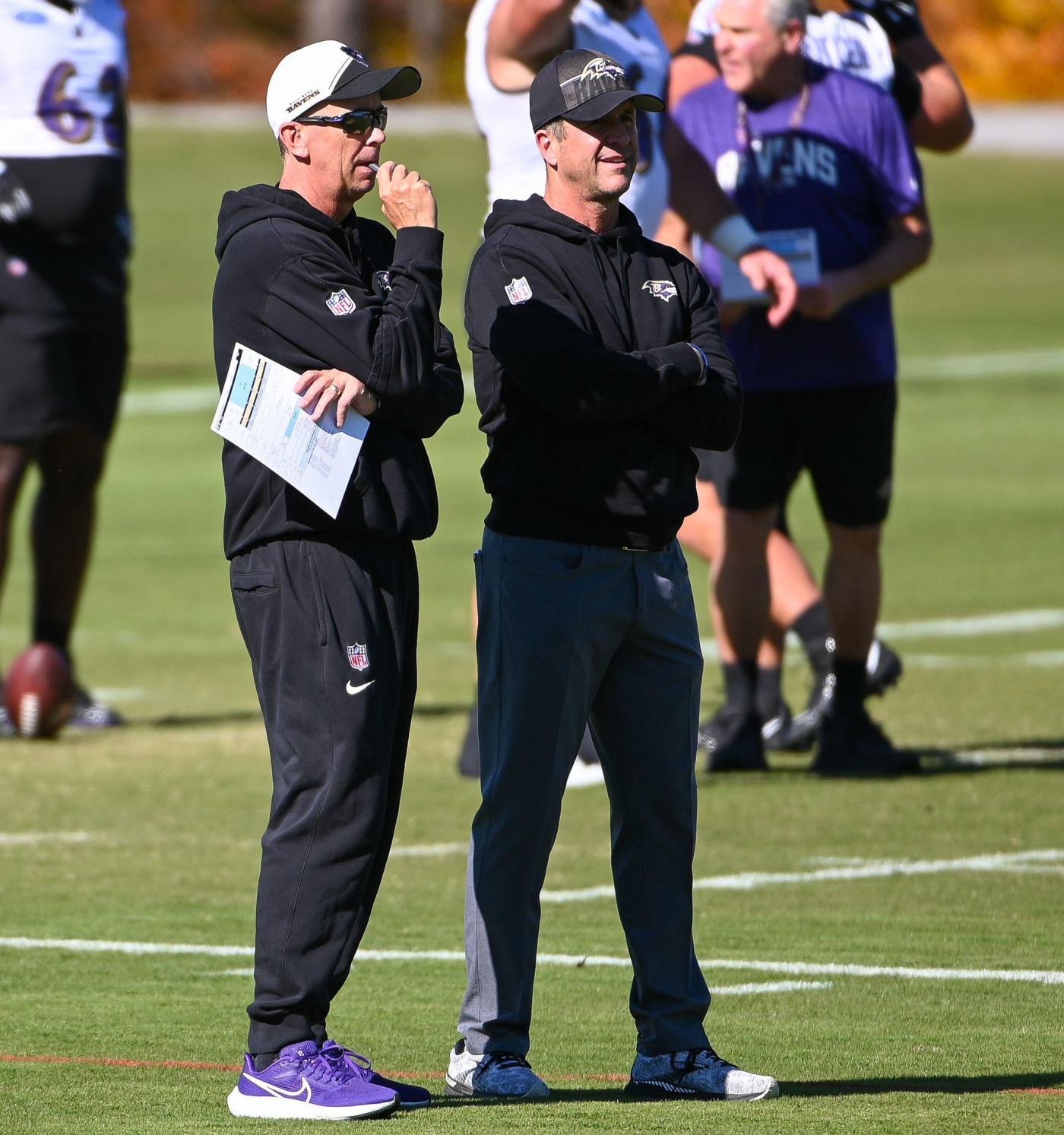 Kurt Warner called the Ravens offense 'kind of clunky.' Todd Monken doesn't totally disagree.
Despite the Ravens scoring 38 points and racking up more than 500 yards of offense in their 38-6 win over the Detroit Lions on Sunday, Pro Football Hall of Fame quarterback and NFL analyst Kurt Warner saw a lot of room for improvement.
"Although they threw for a bunch of yards, it's still not smooth and connected," Warner said on his YouTube show. "It's kind of clunky right now."
Offensive coordinator Todd Monken didn't necessarily disagree.
"There were certain things we did that were really outstanding that you look at and say, 'Wow, we can build on it.' And there's other things that can get glossed over because you won, and you look at it and go, 'That has to be a lot better, or we can't be who want,'" Monken said Thursday. "There were some elite things that we did, and there were some things for sure we have to clean up and not just counting on that [No.] 8 is going to run around and make a play, right? He is going to do that. That is what he does, but that's not my job. Our job is to be elite and getting guys in the right spots, calling it, being aggressive, getting the guys in the right spots and letting our talent shine."
Warner said that spacing among the receivers was "not great" and that players weren't always where they were supposed to be.
He also suggested the timing of some plays being off, and that quarterback Lamar Jackson was able to put up so many yards because of his ability to "work through the issues and make plays."
One of those was a short pass to Gus Edwards that turned into an 80-yard gain. The play was originally designed as a naked bootleg to the left, Monken said, but Jackson instead rolled right, seeing an edge rusher free on the left side of the line. Edwards had the option to block or release on the play and chose the latter.
Another was the Ravens' third play of the game, a 46-yard completion to Zay Flowers over the middle. However, Warner noted that tight end Mark Andrews and Edwards were too close to one another on their respective routes, essentially allowing one defender to cover both of them. That resulted in Jackson having to go to his fourth option, Flowers.
Later in the first quarter, on a 16-yard completion to receiver Rashod Bateman on a back side hook, Warner again pointed out the lack of space between Andrews and Edwards, forcing Jackson to go to his fifth read on the play.
"I don't disagree with some of the things [Warner was] saying," Monken said. "I think in terms of making sure that we're on point, in terms of your spacing, in terms of everybody being on the same page, but do I think that's any different than most weeks? No. You can break down anybody and say, 'Hey, I think that was maybe taking the other side of the narrative.' Because there was so much one side, so you go to the other side of the narrative a little bit. I don't think either side's wrong."
Yet even though Monken was given a game ball following the victory, said there was some frustration over things they should have done better.
"It's consistency in terms of route depths here and out of the huddle, if we're changing a play," he said Thursday. "There's just, over time — and this is no different than any game — there's a missed assignment here, getting lined up here, how we're doing it here, so we're hearing it out of the huddle, getting lined up, [and] our spacing's right. So again, so we don't count on some ad-lib, not an ad-lib, just Lamar making a play and making up for it.
"Those are things that he has a unique ability to do, but when you really take off is you shrink those other things."
Still, there were plenty of things that went right in what was easily the Ravens' biggest offensive output of the season.
The preparation for it stemmed from what Monken and several players called the best practices of the season last week. There was also the performance of the offensive line, which didn't give up a sack and gave Jackson plenty of time to throw.
Then there is the dynamic playmaking of Jackson, always a threat to run and capable of eluding defenders long enough for receivers to work their way open.
"It makes defensive backs have to cover you two times, basically," Flowers said.
"You have to practice that all the time because when you have an electric quarterback like we do we understand it's important to give him a target," said Nelson Agholor, who was the recipient of a touchdown pass from Jackson after the quarterback spent more than 9 seconds scrambling before finding the receiver in the back of the end zone.
Now the only question is whether they will keep it going this week against the 1-6 Cardinals, or if they will take a step back playing against a lesser opponent.
For now, though, it's going in the right direction, Jackson said, and Monken was pleased with the end result.
"That's the way it should look," Monken said. "I don't think you ever anticipate scoring touchdowns on your first four drives. But that's what you're paid to do. You're paid to put a product out there, maximize your players' potential and we did that. It feels good, and it feels like crap when it doesn't.
"We're just getting started. We really are. We just have to build from here."
()