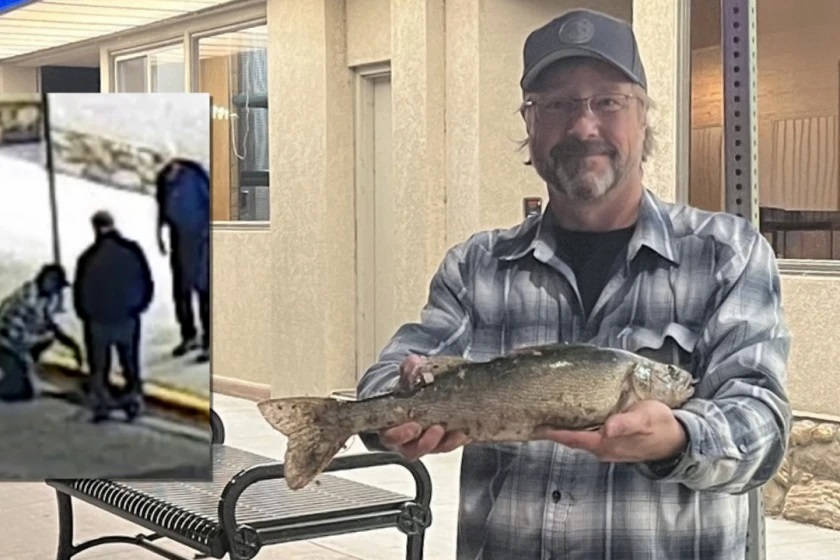 Minnesota fisherman loses walleye down North Dakota storm drain — and gets it back
VALLEY CITY, N.D. — After a North Dakota fishing trip, Valley City native Shawn Grim often goes to his favorite hometown haunts like the Pizza Corner restaurant.
Grim, who now lives in Osakis, Minn., had just rolled into town after a good walleye catch Sunday, Oct. 15.
"I had this gorgeous, 22-inch walleye, which, you know what, that's as big as you keep. Everything else goes back in," Grim said. "A 4 1/2 pound walleye. It was a nice fish, and it's big."
Outside of the pizza shop, Grim thought it would be a good photo opportunity.
"I am holding this fish, getting ready for a picture, and all of a sudden it flip-flops down onto the street. Okay, not a big deal, and I go down to grab it, and boom, boom, boom, right into the drain," Grim said.
This sounds like a great fishing story, but was there proof?
Area businesses had no security footage. But recently, the city of Valley City installed traffic cameras, and they captured it all.
WDAY News showed Grim the traffic video of the fish flop.
"That was it, that was the, 'You've gotta be kidding me,' moment," Grim said.
Grim is a seasoned angler with his own fishing license plates.
"I can see it through the slots here. You can see the light coming through in there. I can see the fish. It was flopping," Grim said.
He wasn't going to let this walleye go.
"So, I go over to my car, go to my tackle box, and I pull out my Rapala. Three treble hooks — this thing catches fish. Is it going to catch one in a storm sewer? We're going to find out," Grim said.
He did what any angler would do. Trying to snag the fish and pull it back up to the street.
"I'm sitting here, trying to snag it, and I snag it. I get the fish. And then it pops out, and it's like, 'Okay it's possible,'" Grim said.
Sure enough, the traffic camera recorded him using his rod and reel and treble hook to re-catch that walleye.
"Pull it up slowly, grab the fish by the back of the head and slowly pull it out of the (storm drain). So then we stand up, (and) we take the picture away from the gutter," Grim said.
Along with the final photo, he got a fish story for the ages.
"Even the goofiest things, like fish down a drain. It's like you got that story, and it's like sometimes it's even better than the fish you caught," Grim said.
Related Articles

Deer charges through crowded Wisconsin restaurant

Wisconsin DNR approves new wolf management plan with no population goal

Skywatch: Get a stellar start to your day

After changes by Minnesota DNR, feds release $21 million for state wildlife habitat

Skywatch: The great autumn galactic happening