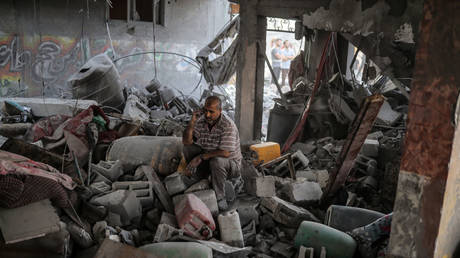 Israel demolishing Gaza's economy – UN
The Occupied Palestinian Territory has suffered a decade and a half of suppressed development, according to the report
The Israeli blockade of the Gaza Strip, in effect since 2007, has led to a significant decline in real GDP per capita and a sharp increase in unemployment and poverty, according to a report issued by the United Nations Conference on Trade and Development (UNCTAD) on Wednesday.
According to the report, in the period from 2006 to 2022, the population of Gaza rose by 61%, but GDP grew by only 1.1%, and real GDP per capita shrank by 27%, from $1,994 in 2006 to $1,257 in 2022, compared with $2,923 and $4,458 in the West Bank, respectively. In the same period, the regional divergence in living conditions widened, as the share of Gaza in the Palestinian economy contracted from 31% to 17.4%, UNCTAD noted.
In addition, in the same period, the labor force grew by 112%, the number of unemployed workers increased by 157%, and unemployment increased from 34.8% to 45.3%, one of the highest levels in the world.
"Population and labor force growth and the dearth of jobs have resulted in lost generations of impoverished, unskilled, and deskilled workers," the report claimed.
"At the time of the establishment of the Palestinian National Authority in 1994, Gaza had about the same standards of living as the West Bank, with its ratio of GDP per capita to that of the West Bank at 97%." This ratio fell to 44% with the onset of the restrictions and closures in 2007 and reached an all-time low in 2021 at 27.7%.
The report pointed out that the economy of Gaza has "undergone a significant structural distortion because of restrictions on movement, limited access to imported inputs, the destruction of the productive base, and semi-autarkic isolation from domestic and global markets."
Read more
At least 2,000 children killed in Gaza – charity
This transformation has reduced the share of agriculture and manufacturing in the economy, from 32% in 1995 to 17.6% in 2022.
"The damage inflicted under occupation extends to all sectors of the economy through several other channels, most salient among which is the loss of land and natural resources to settlements, the ban or restrictions on the importation of certain technology and inputs under the dual-use list system and the barriers to movement that elevate production, transaction and trade costs and thereby erode and stunt the competitiveness of all Palestinian producers."
UNCTAD projected that economic prospects are dim, citing "occupation-related constraints" as the key impediment to economic development in the Palestinian territory.
The International Monetary Fund estimated that the impact of loosening occupation-related restrictions would be about three times greater than the impact of improving the Palestinian business climate, electricity, and water supply.
For more stories on economy & finance visit RT's business section