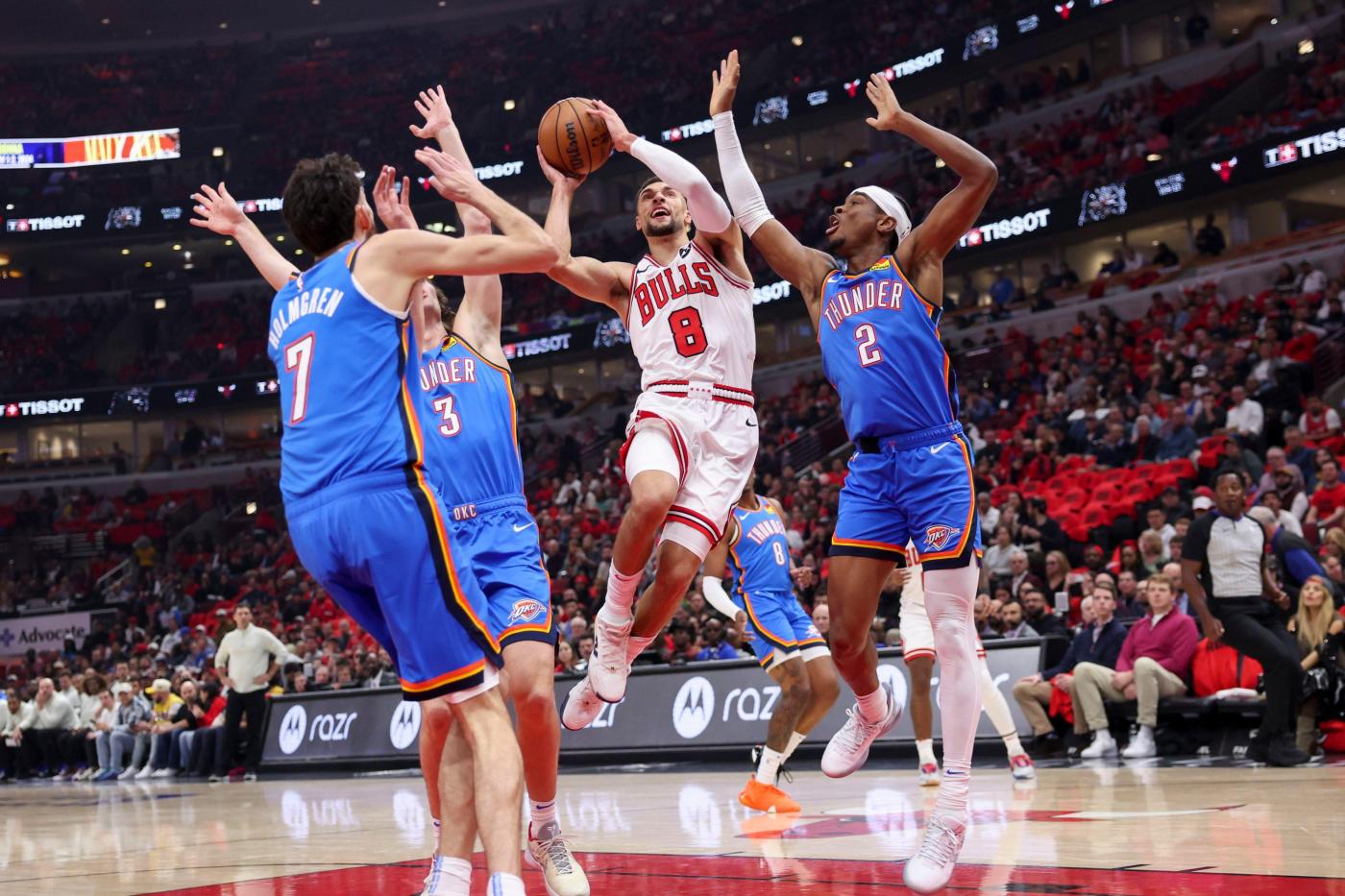 Chicago Bulls players voice frustration in a team meeting after season-opening loss: 'It's unacceptable'
When coach Billy Donovan walked into the locker room after the Chicago Bulls dropped a miserable 124-104 loss to the Oklahoma City Thunder in their home opener, the air was already buzzing with frustration.
Donovan asked the team if they needed a moment alone. Players responded in agreement.
Game 1 might seem early for a players' meeting after a loss. But Donovan emphasized conversations weren't disrespectful and never spiraled out of control: "It's not like they were screaming at each other." And the fervent desire to hash out the mistakes that led to the loss felt like a necessity for the players in the locker room.
"I think it's good that we had those," center Nikola Vučević said. "It was needed. It was just regular discussions of what needed to be done. It wasn't nothing crazy, no fighting, none of that. Just really constructive. It's maybe one of the first times since I've been here that it was like this and it was really needed."
That frustration stemmed from the second half, when the Bulls lost a one-point lead then clawed back to a one-point deficit only to allow a 15-point run in a five-minute span between the end of the third quarter and the start of the fourth.
The Bulls lost their offensive rhythm in the second half and shot 12-for-42 from 3-point range in the loss.
"I don't feel like we played with enough heart and that's on us," guard Zach LaVine said. "It's a terrible way to come out to start the season. It's unacceptable.
"Guys want to win. You put up a game like this in Game 1, you're gonna have some conversations. Guys are frustrated and you should be. Good thing, it just sucks to have it happen in Game 1."
In order to improve this season, Donovan feels the Bulls need to learn how to push through dire moments of poor shooting — a familiar weakness from last season.
"You can just tell guys get down, they get dejected," Donovan said. "There's got to be some resiliency and some fight to get through that."
Confrontation had already sparked on the Bulls bench before the final whistle. Vučević stormed to the sideline midway through the third quarter, exchanging heated words with Donovan centered on a lack of touches and movement through the paint by the Bulls.
Donovan acknowledged that he and Vučević could have "handled the moment better" but said he never felt the conflict went too far. And Donovan felt the intensity of reaction from players — both by Vučević on the sidelines and the entire team in the locker room — reflected improvement in the overall psyche of the roster.
"That would have never happened last year. Ever. The confrontation piece is a sign that it's important and that they know there's things we need to do better," Donovan said. "If that's happening in Game 1, I think it's in some ways really, really good because people are now stepping up saying, 'Hey, there's certain things that have just got to be better.'"
The Bulls are already on the wrong foot to start the season. They'll test the effectiveness of Wednesday's learning curve when they host the Toronto Raptors on Friday before heading on a three-game road trip to face the Detroit Pistons, Indiana Pacers and Dallas Mavericks.
With a roster that barely changed from last season, it's clear that improvements will have to be made internally — and quickly to avoid falling behind in the East.
"Every issue is fixable," Vučević said. "We talked about it. We're all aware of it. We've just got to fix it now."
()