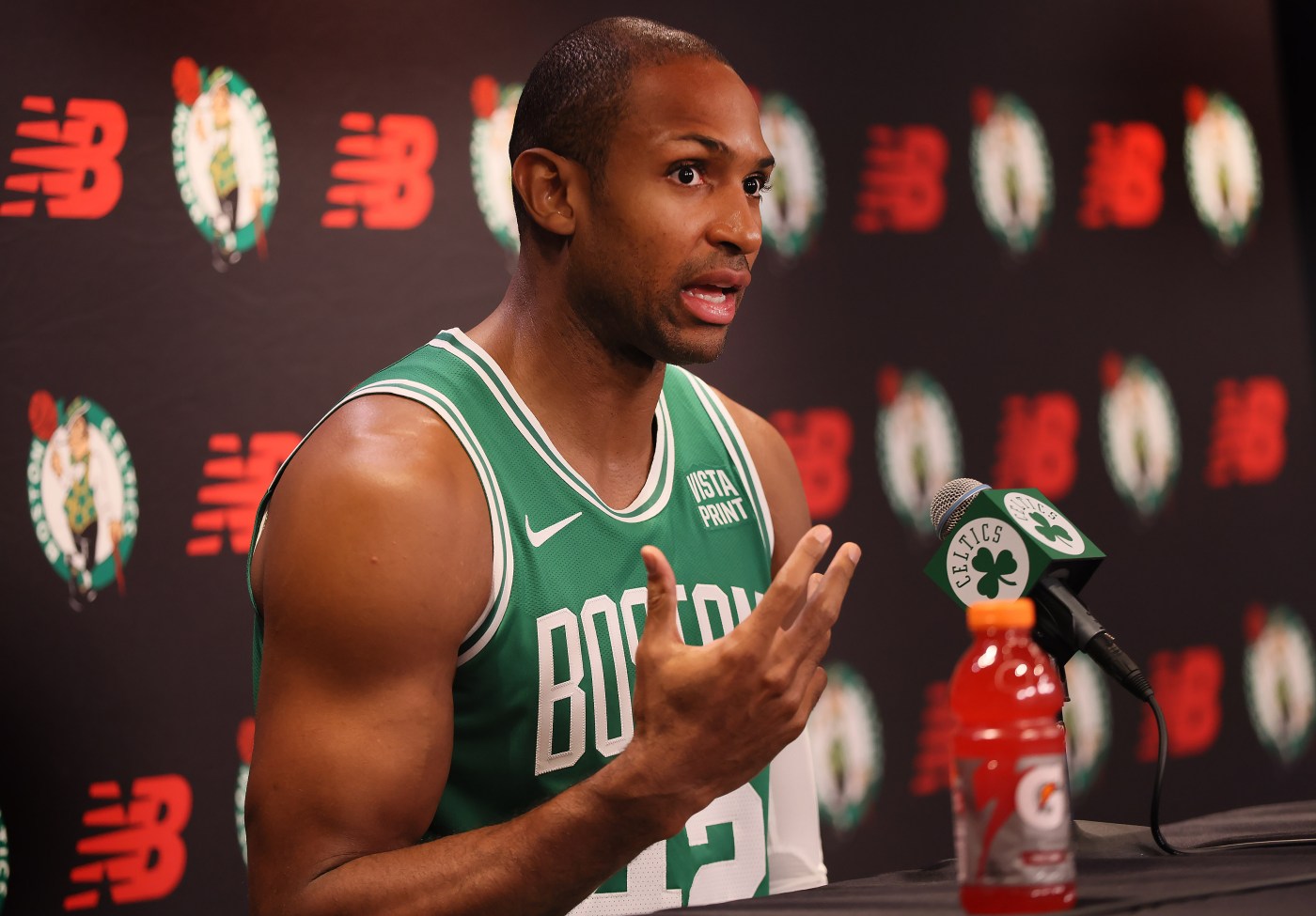 Celtics' Al Horford earns more praise for coming off bench in season opener vs. Knicks
NEW YORK — For the first time in his Celtics career, Al Horford came off the bench for Wednesday's season opener against the Knicks.
Horford, entering his sixth total season as a member of the C's, had started all 429 games he played in Boston – 340 regular season, 89 postseason – before Wednesday. But with how loaded the Celtics' roster is, and the way Joe Mazzulla wants to play, Horford accepted a seat on the bench as the ball tipped at Madison Square Garden.
It's the first noteworthy example of sacrifice the Celtics are emphasizing this season as they chase a championship. Horford, who preferred to start in previous seasons, swallowed his ego. It didn't go unnoticed.
"That's the ultimate sacrifice," Jayson Tatum said. "Everybody knows how much I love and respect Al. A lot of guys say that they'll do anything to help the team win, but Al is the epitome of that. We got six starters essentially, and everybody's gonna to sacrifice at some point throughout the season, depending on who we're playing and matchups. But for Al to voice that he should come on a bench or whatever, he's the ultimate team player. That's why we all love and appreciate him and obviously he's gonna be a huge part of the success that we have this year."
Horford did not volunteer to come off the bench, but after several conversations, agreed to do as Tatum, Jaylen Brown, Derrick White, Jrue Holiday and Kristaps Porzingis took the floor. Horford received further praise from Mazzulla, who stressed that this won't be the only example of sacrifice this season.
"Al's a cultural warrior for us," Mazzulla said. "So for a guy of his stature, what he's done in this league, what he's done for our team, to be willing to do that for our team is very important and I'm grateful for that and for him. At the same time, it's not just about him. I think that's the idea of this whole offseason, this preseason starting thing is like, yeah, Al's making the initial sacrifice, but everyone's gonna have to. And so it's important that our team as a whole has the empathy for each other to understand that each guy is going to have to give up something little for us to be a better team.
"It's gonna look differently for each guy and it's gonna come at different times throughout the season. So right now, Al stepped up to the plate and started that for us, but each guys' gonna have to do what Al's doing night in and night out at different times. And as long as we keep that togetherness, that sacrifice, that open-mindedness, we'll be able to maximize our ability to be as successful as we can be."