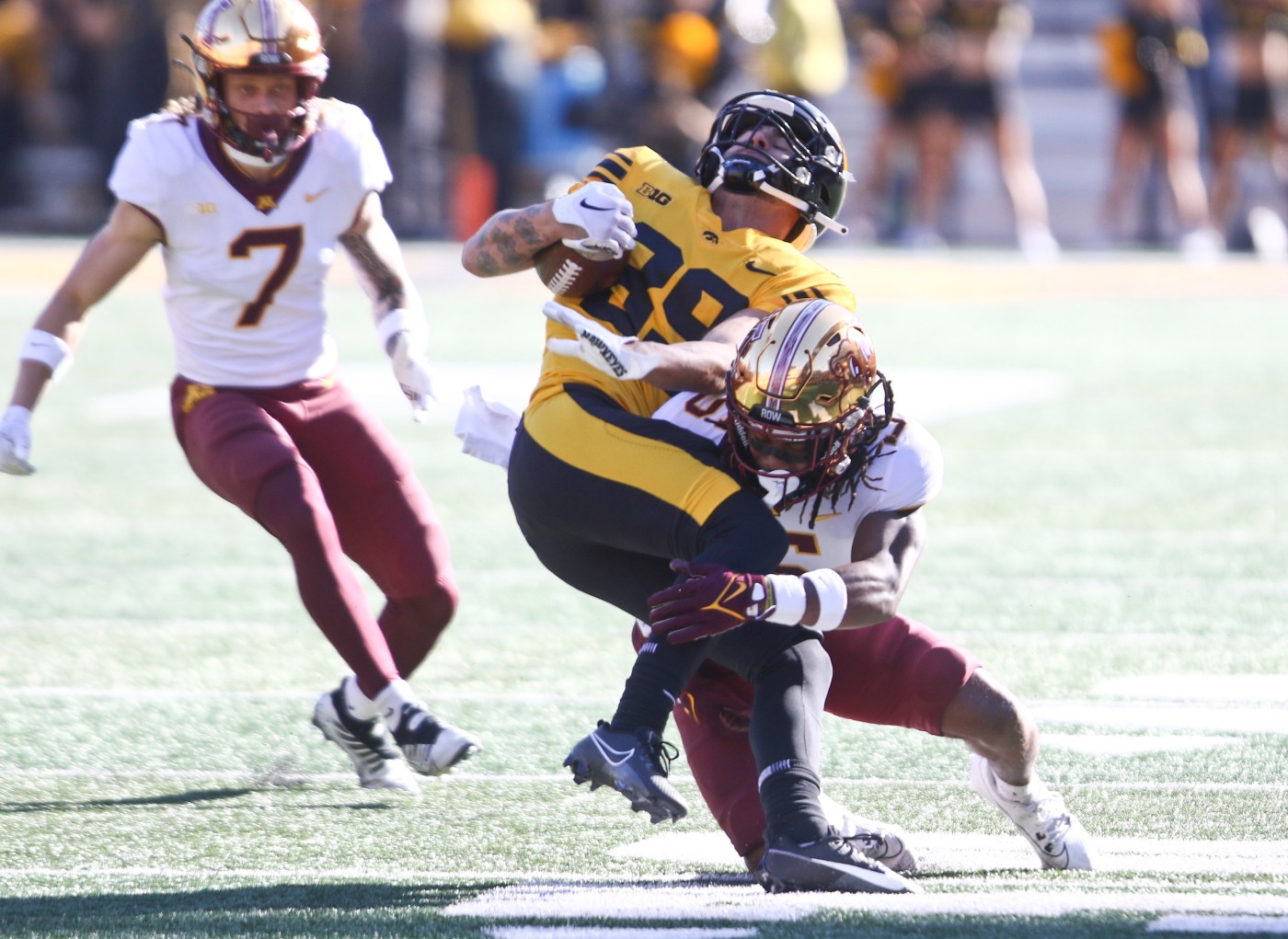 Gophers defense squared up on Hawkeyes' 'curveballs' in rivalry win
Gophers defensive coordinator Joe Rossi grew up as a baseball player in Pittsburgh. In the batter's box, he could lock in and hit curveballs.
But at age 16, his career on the diamond was derailed when he fouled off a pitch that hit in him in the face. He went legally blind his left eye.
That scary situation led Rossi to focus on football, and his connection to his other boyhood love returned as a theme as Minnesota prepared for the Floyd of Rosedale rivalry game at Iowa last Saturday.
The Gophers wanted to take away certain plays the Hawkeyes have had success with against Minnesota in the past — double-move passing routes, reverses and misdirection handoffs. "Those are kind of like off-speed pitches," Rossi said.
Minnesota took away those plays, with Iowa having only one explosive offensive play in the Gophers' 12-10 victory. The Hawkeyes mustered only 11 rushing yards, their lowest total since 2019, and a paltry 127 total yards, a new low since 2017.
When they made a big play, the Gophers planned to mimic swings of a bat in celebration during the game in Iowa City.
Jalen Logan-Redding and Danny Striggow both took big cuts after each sacked quarterback Deacon Hill in the fourth quarter.
"JLR decided to throw a lacrosse stick, which was not elite," Rossi said. "But Danny, you could tell was an athlete and played baseball, so his was pretty good."
Pro Football Focus College named Logan-Redding to its defensive team of the week. He felt it was his best game this season, but added there is still room for improvement.
The Gophers had four sacks and three takeaways against the Hawkeyes. In other words, the equivalent of multiple extra-base hits.
Dolphin saw it
Iowa radio play-by-play commentator Gary Dolphin described the invalid fair catch signal punt returner Cooper DeJean used during the return Saturday well before officials on the field arrived on the call after a video review.
"Cooper DeJean was waving for everybody to get away from the ball," Dolphin said in the moment on the radio. "… I think Minnesota was stunned, and the Coop just flew the coop!"
DeJean's gesture with his left hand, and possibly an audible command, resulted in one teammate stopping his block for DeJean, and Gophers coverage team member Tariq Watson letting up in his pursuit of DeJean.
"He snookered everybody to getting out of the way; he sold it," Dolphin said.
Dolphin then sounds as if he grows confused by the invalid fair catch signal, but the intent of the rule, according to the NCAA's Steve Shaw, is to not give coverage players doubt on whether the returner gave a fair catch signal or a "get away" call.
Hence, why the play was ruled dead before the return.
Oink ink?
Gophers coach P.J. Fleck shared that right tackle Quinn Carroll might get a pig tattoo now that the Minnesotan has won Floyd of Rosedale.
"I might, who knows," Carroll told the Pioneer Press.
Carroll already has ink, predominately a cross on his left arm, so another one tat would not be far-fetched.
Briefly
Michigan State's starting right tackle, Spencer Brown, has been suspended for the first half of the Gophers game Saturday at Huntington Bank Stadium. The Big Ten issued the punishment in response to a flagrant personal foul against Michigan last Saturday. … Illinois' best defensive player, tackle Johnny Newton, will miss the first half of the Gophers game at 2:30 p.m. Nov. 4 due to an ejection for targeting against Wisconsin last Saturday. The Illini are on a bye this weekend, and their appeal of the suspension was denied.
Related Articles

Before investigation was revealed, Gophers football changed play-call process for Michigan game

Big Ten, NCAA stand behind call at end of Gophers' win over Hawkeyes

A look behind the scenes of Gophers' emotional win over Hawkeyes

'Fine me.' Hawkeyes coach Kirk Ferentz fired up over controversial call in loss to Gophers

Men's hockey: North Dakota hands No. 1 Gophers first loss