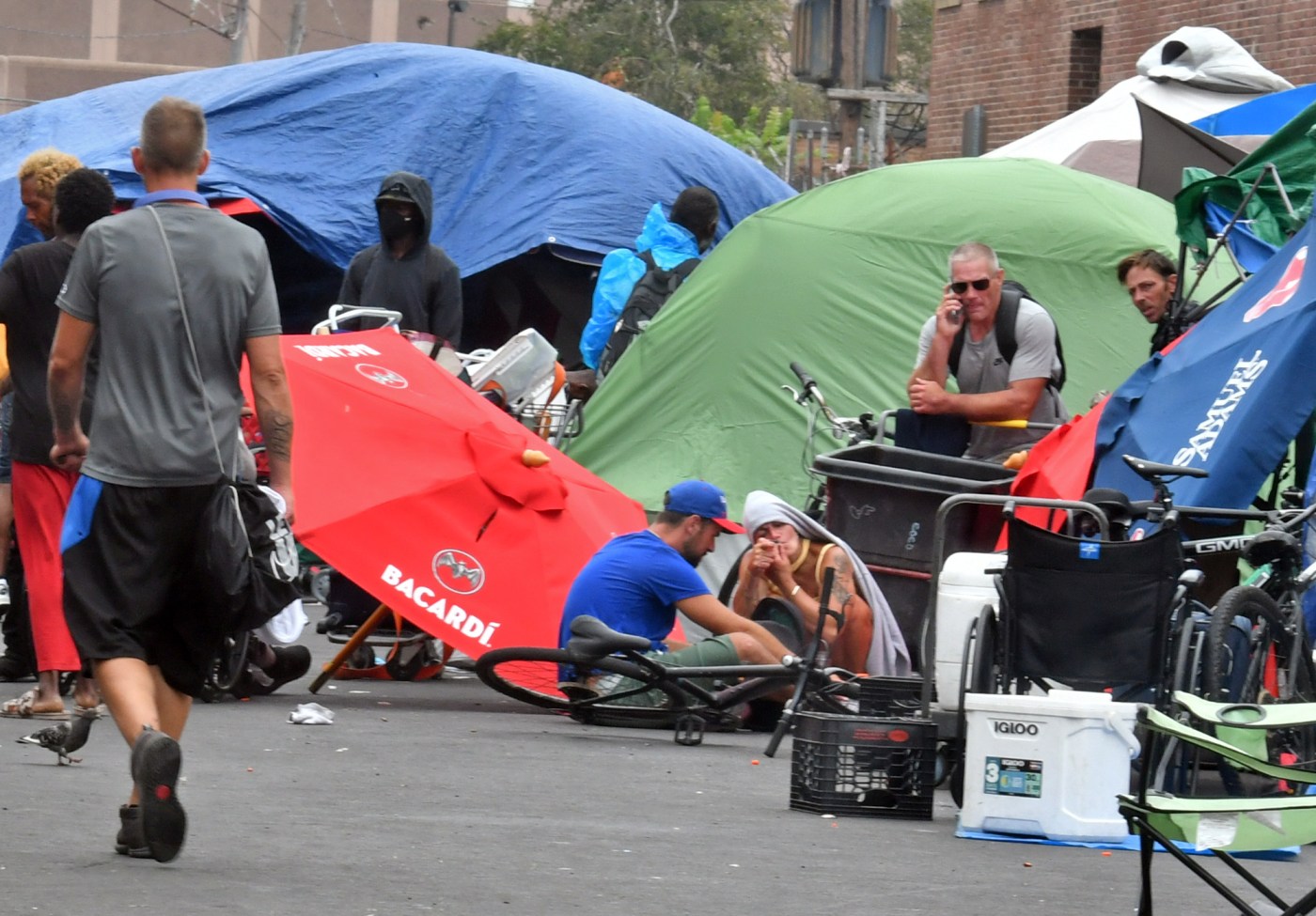 Boston City Council approves Mass and Cass tent ban, Wu to outline next steps Thursday
The Boston City Council approved an amended version of the mayor's anti-encampment ordinance for the Mass and Cass zone, setting off a seven-day clock for enforcement that would begin once Michelle Wu signs the measure.
The 9-3 vote, with one councilor voting present, wasn't close, but those who voted in favor Wednesday joined objectors in sharing a number of concerns that they felt were not properly addressed by the Wu administration throughout a process that began in late August with the mayor's filing.
"I'm going to vote 'yes,' but I'm going to work closely with the police commissioner and with the Public Health Commission, and I am disappointed with them," City Council President Ed Flynn said. "I feel like they haven't given us the answers that we need, that we deserve.
"I don't feel like they have engaged us and provided the right information as well."
Flynn echoed several of his colleagues who mentioned that their support was largely due to a feeling that the tents, which authorities say are being used to shield drugs, weapons and violence, need to come down as soon as possible.
The level of violence that's taking place on Atkinson Street and throughout Mass and Cass — "rapes, stabbings, shootings" — the city should never allow that type of situation to occur again, Flynn said.
"I don't think this will be what saves us," Councilor Ruthzee Louijeune said. "I don't think this is ultimately going to be the solution, but can it be part of what's getting us there? I believe so, as long as you're protecting people's First Amendment rights."
The ordinance acknowledges that the homeless individuals living on Methadone Mile are in need of shelter, and that the tent situation is "untenable," she added.
Carol Rose, executive director of the American Civil Liberties Union of Massachusetts said "the ACLU will be watching to ensure that people's rights are not violated in the execution and enforcement of this ordinance."
"The city must ensure that people's property is safeguarded, and that available temporary housing includes realistic options for the people who will be displaced from their only living situation and cannot sleep in congregate settings due to disability or family circumstances," Rose said in a statement.
The measure gives police the authority to remove tents and tarps, provided that individuals are offered shelter and transportation to services. It is tied into the mayor's three-pronged plan for tackling crime and homelessness in the area.
Related Articles

Boston City Council to vote on amended Mass and Cass tent ban Wednesday

Battenfeld: Mass and Cass crisis worsens while Boston City Council does nothing

Boston City Council punts vote on Mass and Cass tent ban

Council president calls for investigation into toddler found at Boston's Mass and Cass

Man stabbed at Mass and Cass area shelter, police
The Council vote gives the Wu administration the go-ahead to open a 30-bed shelter on Massachusetts Avenue, for homeless individuals displaced by the ordinance.
While this part of the plan has been controversial among community members and certain councilors who criticized the addition of a so-called "fourth shelter" in the South End, Wu has insisted that the facility would close as soon as the targeted individuals are set up with permanent housing.
The mayor's plan also calls for an increased police presence, aimed at both enforcing the anti-encampment ordinance at Mass and Cass, and preventing tents from popping up in other locations throughout the city.
"We are grateful to the Council for their partnership in approving this ordinance to help address the public safety of patients, workers and residents in the area so our team can continue outreach to individuals in need," a Wu spokesperson said in a Wednesday statement.
"City staff and provider partners have been working for weeks to prepare for our plans to reopen Atkinson Street to standard roadway operations and expand citywide outreach for shelter, services and treatment."
Wu will join administration officials in providing updates on her plan for the troubled area Thursday morning, at a City Hall press conference.
Flynn, Louijeune, Liz Breadon, Gabriela Coletta, Sharon Durkan, Tania Fernandes Anderson, Michael Flaherty, Erin Murphy and Brian Worrell voted in favor of the ordinance, as amended by Councilor Ricardo Arroyo.
Arroyo, Frank Baker and Kendra Lara voted in opposition. Julia Mejia abstained from taking a side, by voting 'present.'
Arroyo said that while he was against the measure, he felt that the amendments he added to the mayor's initial proposal strengthened the legality of the ordinance.
His amendments eliminated a monetary, or $25 fine, for violators, and added language to require the direct involvement of the Boston Public Health Commission in cases where alternative shelter space is unavailable, but the city must place restrictions on outdoor encampment activity.
The administration is also required to attend an annual City Council hearing to provide an end-of-year report on the ordinance, per the changes, and must provide notice of tent removal in a variety of languages.
Arroyo spoke at length about his opposition, saying that there is no evidence that similar efforts to clear out homeless encampments have worked in other parts of the country.
While he acknowledged that the administration's efforts to tie housing into the ordinance are well-intentioned, the only way for such a measure to work is through further investment on the local and state level, to provide additional beds for shelter and long-term care, he said.
"The practical reality is that when this goes into effect, there will be people who are sleeping on floors in shelters," Arroyo said. "Unless we do a secondary effort from the state, from the city, to fund more action with this, that's not going to be sustainable."