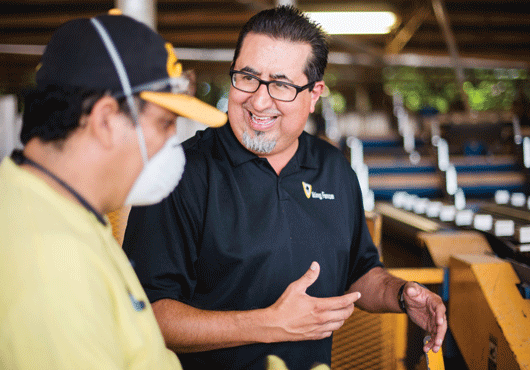 Salvador Chavarria On Helping Employees Reach Their Full Potential 
Salvador Chavarria is the proud owner of Viking Fence Company, a well-known fencing company based out of Austin, Texas.
After earning his BBA in Finance from Texas, Salvador went on to pursue several opportunities working in technology. In 2006, Salvador and his wife, Jennifer, purchased Viking Fence and have since grown the business, from twenty-five employees to over one hundred and fifty-five employees. With over one hundred and sixty years of combined sales contractor experience, they currently serve the areas of Austin, Dallas, Fort Worth, and Houston.
When Chavarria is not working, he is a full-time father to four boys. As a dedicated family man, he also takes pride in being an active member of his local community.
What products or services do you provide?
We are a reputable fencing company based out of Austin, Texas. However, with several locations throughout the state we also serve the Dallas/Fort Worth and Houston metropolitan areas. We offer commercial services in all of our markets ranging from permanent fence installations to construction rentals of the following products (rental fence, portable sanitation, traffic control water barricades, and rapid deployment camera surveillance) as well as material sales in DFW and Austin.  The tenure of our estimators is the longest in the industry. We are also experts in Western Red Cedar and take pride in helping our customers understand the various grades/specifications available in the market.
How did you enter the business landscape?
I graduated from the University of Texas in 1991 and found myself working in the technology sector for almost a decade afterwards. While my experiences taught me a lot, I always had passion for the business landscape. I made the decision alongside my wife to purchase Viking Fence, and we have not looked back ever since.
What makes your company stand out?
Unlike many other fencing companies, our permanent fence estimators own the project from start to finish. Our installation crews report directly to our estimators, and we have a dedicated quality control team. Our goal is to build the best fences in Texas, and we achieve this by monitoring every aspect of the project. Our rental division takes grade pride in providing the highest level of customer service in the industry.
What are your company values? 
We value a high commitment to customer service first and foremost.   We want every employee, regardless of their role in the company, to understand this.  It is also very important to be demanding but fair with employees.  While I most definitely recognize individuals for their amazing work, I will also point out areas of improvement. Open communication and honesty ultimately leads to growth. It also ensures that the customer is getting what they paid for.
What do you like most about your job?
I love working with my team, and I value my dedicated team of employees. I take pride in my work and being able to help individuals reach their full potential.
Any finance or cash-flow tips for new businesses starting out?
Keep clean financials.   You'd be surprised how many small businesses don't do this.  This is critical to developing banking relationships and ultimately a working capital line of credit.  Ensure that your sales people and collections personnel are incented to collect your accounts receivable. Offering a variety of payment options will help ensure you received the required funds in full and all time.
What makes a good leader?
A good leader is a great communicator but they are an even better listener. I really try to be there for my employees, and I want them to feel as though they can approach me with issues. The best leaders are problem-solvers and team players.
Any thoughts on the future of your company and your dreams?
While we are more than happy with the extensive success that we have achieved thus far, we would love to expand further. We are always looking for new ways to serve our customers and I think our commitment to innovation has helped us remain one of the best construction services companies in the industry.